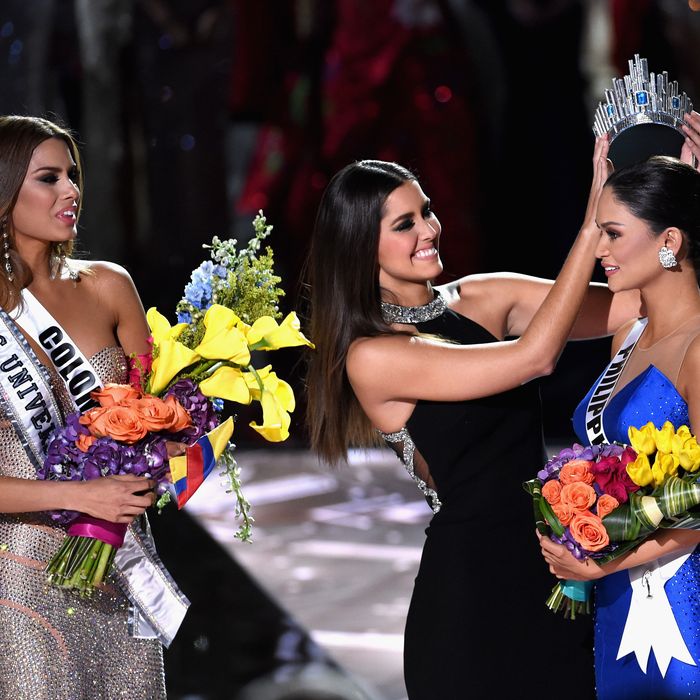 The most awkward crown swap, ever.
Photo: Ethan Miller/Getty Images
Usually pageants are pretty boring and predictable, but this year's Miss Universe had a moment that felt like it came straight out of a Hollywood movie. The night started off on a very diverse note: The top 15 contestants included a biracial woman from Japan, a refugee immigrant from Australia, and a proud Muslim from Indonesia. It seemed like they wanted to separate themselves from Donald Trump (who is no longer affiliated with the pageant) as much as possible by being as inclusive as possible.
And then it came down to the top three: Miss USA, Miss Colombia, and Miss Philippines. Miss USA, Olivia Jordan, was named second runner-up. Host Steve Harvey then announced Miss Colombia, Ariadna Gutiérrez, as the new Miss Universe. She accepted the crown, but suddenly there came a strange pause, followed by an even more bizarre announcement that Harvey had named the wrong winner. The crown was passed over to Miss Philippines, Pia Alonzo Wurtzbach, to a room full of mixed reactions. Oof. Watch the entire awkward moment below.