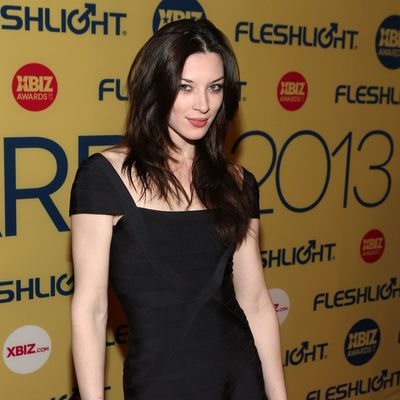 Stoya.
Photo: Jesse Grant/WireImage
Since tweeting two allegations at the end of November that porn star and her ex-boyfriend James Deen had raped her, porn actress and writer Stoya announced she was going offline. In her absence, Deen denied the allegations and eight other women came forward with accusations that Deen had assaulted and raped them, both off-screen and on. Deen had been previously painted as porn's answer to male feminism, but mounting evidence against him began many conversations about continuing prejudices against porn performers, why we crave male feminists, and how to react to such public accusations.
Now, almost a week after her allegations began to spread, Stoya and several other performers have been featured in a story at The Guardian about why they chose to speak out now. Stoya told The Guardian, "If you hold someone down and fuck them while they say 'no' and 'stop' and use their fucking safeword, that is rape. But when it first happened, I felt numb. And I went to work the next day. And I went to work the day after that. And I did a scene with him two days after, maybe three days after, I'm not sure. Then I felt like I'd been violated by someone I trusted."
Stoya continued, saying, "It took me months and months and months, over a year of months, to be able to call it what it was — which was rape." Arabelle Raphael, a porn performer whose friend had told her she'd been assaulted by Deen, said there was fear in the porn industry about even showing support for Stoya, saying,  "Just showing solidarity is something people are having to talk about and question."
Since the publication of the Guardian story, a ninth woman has come forward with allegations of assault against James Deen. Nicki Blue, a webcam model who was 21 and a virgin at the time she met Deen, told The Daily Mail that Deen urinated in her mouth and raped her with a beer bottle at a wrap party at the Kink headquarters in San Francisco in 2011.