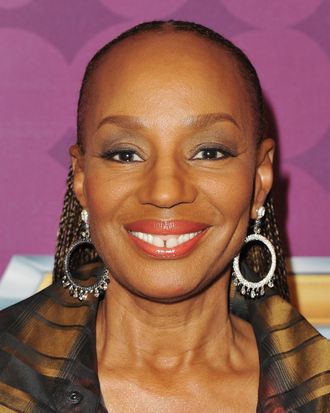 Susan Taylor.
Photo: D Dipasupil/Getty Images
Two weeks ago, I wrote the Cut's first cover story, on Tracey "Africa" Norman, a pioneering black trans woman whose modeling career in the 1970s and early 1980s was cut short when she was outed, she believes, at an Essence magazine photo shoot. Over the course of reporting, I reached out to Susan L. Taylor, the editor Tracey Norman remembers working with at Essence, for comment on multiple occasions. My co-writer, Aaron Wong, also tried to contact to Ms. Taylor months earlier and got no reply.
Once the piece was published, Ms. Taylor, now the founder and CEO of the National CARES Mentoring Program, reached out to the Cut and I spoke to her about her recollection of the situation — in which Ms. Norman says Ms. Taylor shut down a photo shoot in 1980 upon learning her secret, and never published the pictures. The next day, Ms. Norman said her agency stopped having work for her, but no one ever explicitly confronted her. This isn't meant to be an exercise in blame. The events that led to the end of Tracey Norman's career took place some 35 years ago, and even the clearest of memories can be refracted by time. Even if we could find the photographs in question, and most of the people at the shoot weren't deceased, and we could locate the principals of Ms. Norman's long-disbanded agency, chances are, we'd still never quite know what happened that day. What we do know is that Tracey Norman forged a successful career in an industry that did not react kindly to discovering that she was a transgender woman. We stand by her and are proud to have printed her story. 

We wanted to talk about your recollection of Tracey Norman and of that time.
I was saddened to read about the fear and the pain that Tracey had been living with. I was also deeply hurt to read that she believed that I had anything to do with causing it when the opposite is true. Tracey came to model at Essence and I loved working with her, and I elevated her career. That's what we did. Because she was a rarity, a real find for me — I was fashion and beauty editor at the time. She represented pure African beauty, which at the time was not easily found in the industry. Agencies just did not find women who looked like Tracey.
Do you remember what year it was?
It was 40 years ago! I don't remember the year, but I know I worked with her. I became editor-in-chief of the magazine in '81 in February, and I worked with her, absolutely, in the 1970s and perhaps 1980s, but after I was editor-in-chief I wouldn't be in the studio for fashion or beauty shoots.
You told me in a previous exchange that you knew Tracey was transgender. When did you know that?
We didn't have a term for it. But you couldn't be around Tracey and not suspect it. My team says they knew. I'm telling you I suspected it. I mean, Tracey has big, broad, beautiful shoulders, large feet, you know, really large hands. We featured her primarily in beauty pages. All the editors say, "We knew she was a man." They dressed her. They taped and pinned clothing to fit her so that we could present her to the audience. The clothes didn't fit her body easily.
She says she lost a lot of weight and was down to model size at least by the end of the '70s.
When she came into Essence?
Not the first shoot, but definitely by the last one.
I don't know the last or the first. I knew that she was a favorite model and she came to us, as she reported herself, being "thick." She was a big girl, and we loved her! So to have this be said about Essence at the time and me specifically is devastating. The truth that I want Tracey to know, and this is so important, is that she was totally safe with us at Essence. No one could have outed her to me. I always suspected she was genetically male. I accepted her as she presented herself, as an exquisitely beautiful black woman. Now, this is 40 years later, but I think someone that she went to school with in Newark told me that they knew her as a boy. I think.
So you remember this person from Newark coming in and telling you that he'd known Tracey as a boy?
Not coming in. I think somebody said to me that they went to high school with her and knew her when she was a boy. And this came to me as I was thinking about this over the last few days. I think that someone shared that with me, that they knew her from Newark. I'm not absolutely sure. But what I am absolutely sure of is this: I have never shut down one single shoot in 37 years. You know, in 1980, Essence hardly had the budget to shut down a shoot and discard the film. I suspected she was male, my team said they knew, and we honored her. And we sought to hire her into the '80s and she was not available. I just learned that a few days ago. I'm also sure, Jada, that I never called a modeling agency and threatened to sue them. How could I sue anybody about what I suspected? I mean, why would I sue a modeling agency? A lot of this I think comes from a fear that she had of being outed, and circumstances that might have taken place around that that created scenarios that just aren't true. And I would love to be able to say that to her: "You were in a place where you were honored, not shunned."
Do you remember that final shoot?
None of us remember. We have so many shoots. That's what we do. We produced all the fashion and beauty pages for Essence.
Did you know about other trans models at the time?
Not trans models, but she wasn't the only transgender person in the industry who we worked with. There was a makeup artist who was transgender, worked with the magazine a lot, through the '80s and '90s, traveled the world with us. You couldn't have seen Tracey and been with her and just immediately not known that she was a male.
Were there conversations you'd have as a team about her being genetically male?
Absolutely. We said, "She's a man." And then what? We moved on. We said the same thing about the makeup artist who worked with us. You said it once, maybe you said it twice. "I suspect." We kept booking her.
But there's a difference between a makeup artist who's behind the scenes and a model you're featuring in photographs in the magazine.
Absolutely. But it didn't matter. She was so beautiful, and as I said, she was so rare. My commitment to the audience that I served was to try to find the most exquisite representation of the breadth of black beauty. There are models who will tell you, "I didn't have a modeling career and Susan Taylor saw me in a restaurant and asked me if I wanted to be in the pages of Essence." We had women who were on the cover of the magazine who did not come from modeling agencies. Because the agencies at the time had one very narrow representation of African-American women's beauty, so we had to search for black women, girls on Broadway, [some who were] probably a size 14. We were longing to find women who weren't, you know, skinny girls. Chocolate women with Nubian features, so the readers could see themselves. And she represented that.
If you knew that Tracey was male, did you have to openly defend your decision to shoot her?
No. She wasn't so evidently male. She looked like a woman.
Would Essence have faced repercussions from advertisers if it had come out you were shooting a trans woman?
Not advertisers, but our readership probably would have taken issue. I'm telling you, Essence has a long history of publishing the writings of and elevating women living with the stigma of AIDS. We were the first women's magazine to publish a story about AIDS. So we've always been very progressive. And while it's not the same as women who were transgender, giving lesbians a voice in the magazine meant losing readers. But it didn't stop us.
Was there a sense that if word got out that Tracey was trans you'd lose readership?
We never thought about it. Had I thought about that, I might have approached it differently. But I didn't think about that. We didn't have a term for it. And we weren't absolutely sure. But I can tell you that she was safe at Essence, safe with me. What was so interesting to me, when I think about the overwhelming fear that she described living with, it explained her shyness and her quietness. I think that when you believe something, when you're fearful — the fear of being discovered created this perception for her. She didn't know she was safe. And I think that those misperceptions can easily cause us to look at circumstances differently and look for evidence, even, to support that belief.
Do you have any idea why then after this shoot she never worked for her agency or Essence again?
We tried to book her. The editors told me just days ago that we tried to book her. When they went back to book her in the 1980s, they could not find her. I said, "Maybe that's when she went to Europe."
Her recollection is that she went into her agency, Zoli, the next day and suddenly they didn't have work for her and essentially dropped her.
That had nothing to do with Essence. I can tell you that. Zoli, they got no call from me, or anybody at Essence.
Did you hear anything about the rest of the industry shunning her?
Not a single thing.
What would you say was the atmosphere toward transgender women at the time, particularly in the African-American community?
We knew nothing of it. We didn't have a term for it. It wasn't anything that was spoken about, discussed. But I know that had a transgender woman put a story forth to us, or if a reporter said that they wanted to do a story on a transgender woman, I know that as editor-in-chief I would've been receptive to it. Absolutely, positively.
Okay, but even if you subtract from the equation that Essence had anything to do with her outing, somehow her truth became widely known and her career stopped. The industry reaction to her truth was the proof that it would have stopped her career, that an out trans woman could not be a working model at that time.
Something had to have happened somewhere else, maybe at that moment.
If the shoot wasn't shut down and the film discarded, do you have the pages from the magazine where they were published?
We don't remember the shoot. None of us do. We don't remember the shoot that she's describing. Go find that issue. If it happened and she was wrapped in gold cloth and we published it, I don't think that she would say that. I don't know what happened that day that she remembers that none of us do. The photographer would probably have the film. They archive everything.
We don't know who the photographer was because we don't have the photographs.
So that shoot was her last shoot and she doesn't remember the photographer?
No, she doesn't remember.
Where are the Zoli people?
The agency is defunct.
I know the agency is defunct. You know something? Somebody may have called her agency that day. It wasn't from Essence.
So let's say someone else called Zoli, the fact that there was suddenly no work for her does seem to suggest that there wasn't room for an out trans model at that time.
I would say so. I would say that. That is why it's hurtful to me, because we created a space that probably no other magazine — was she photographed by any other magazine? You'd be hard-pressed to find her in any other magazine at the time other than Essence. You would be hard-pressed to find any model who looked like her in any other magazine other than Essence at that time. It's what made her so precious to us. Precious.
She was photographed for catalogues, an Avon campaign, the Clairol campaign …
I'm talking about magazines. Magazines, that's where they find you for the campaigns.
She mentions in the piece having run into you once maybe 15 years ago when she was the manager at Peter Fox Shoes. You said you don't remember that. Do you remember ever seeing Tracey again?
I don't. But that doesn't mean that I didn't. It was almost 40 years ago. I've had 100 lives since then. If I saw her, I would have embraced her. "Hi! How are you?" Would I have remembered her name? Maybe not. But certainly when I think about her now, I think about her fondly. There was such a sweetness about her. Shy, quiet, sweet, good model. Those are my memories.
More than anything, what I would love is to have an opportunity to really speak with her face-to-face at some point. I hope that I could lift this pain from her heart and mind, because this is the antithesis of who I am.
I can ask Tracey if she'd want to be in touch.
Yeah. Give her my number. If she wants to call, I'd love to see her. I don't want her having that in her heart about Essence, the team I worked with, and me. Something else happened during that time, you know, that made her believe what she believes. But no Essence shoot was shut down.
We can talk on the phone, too, but I want to look in her eyes. I want to say, "You know what? If I had to be a sacrificial lamb in that story for her to recover herself and for a career to reemerge, let me be that for her." Because being transgender is one of the most difficult spaces for anyone in this society to occupy.

This interview had been edited and condensed.