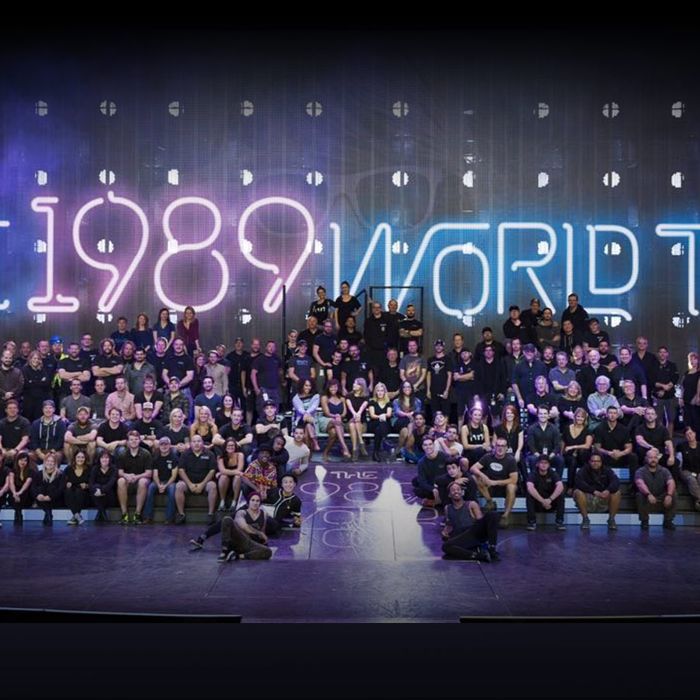 Taylor and her friends.
Photo: Taylor Swift/Instagram
It's long been documented that Taylor Swift is in competition with herself to become the girl with the most friends, as the rest of the world watches in horror, hoping that she'll someday inherit even the tiniest bit of chill. But, as the expression goes, "Once a fairy godmother with a motive, always a fairy godmother with a motive," and though Swift and her squad have been absent from the spotlight lately, she's come back with a new affirmative performance — this time, with her staff. They all got to go on vacation with her!
The young pop ingenue has been seen flitting about Hamilton Island in Australia with a bigger crew than usual — and it's her literal crew, all 125 workers who help put on her show. Yes: Remember that boss you loved because she brought you a jelly doughnut once for your birthday? Taylor Swift is like that boss but she takes you to a private island. She had this to say to her 57 million Instagram followers:
So stoked to be able to take my band and crew on a vacation at the end of a long and wonderful tour. For all their hard work this year, they really deserve it. Thank you to Hamilton Island for taking such great care of 125 of the people who work tirelessly to make sure the 1989 World Tour stage gets built, the lights are on, the costumes are made, the guitars are tuned, and the show goes on. (Aussie press, I love your enthusiasm but my birthday isn't for 2 weeks and it'll be a quiet one this year. Let's take it down a notch:)
Swift's power to bond is not restricted to humans, though. Even with all those people around her, she also took the time to make friends with a bird. Alone. Perhaps she's making amends for endangering all those feathered folk in New Zealand last month? Looks like this lil' guy has forgiven her.