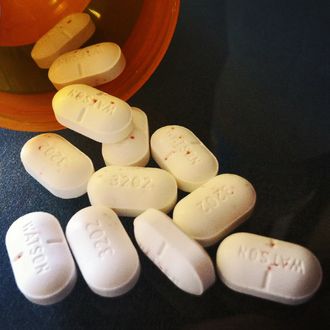 Good news about teen drug habits: Painkiller abuse is in something of a free fall. The New York Times, citing a newly released government report, notes that "The percentage of 12th graders who said they had used narcotics other than heroin — generally prescription opioids such as Vicodin and OxyContin — decreased to 5.4 percent from a high of 9.5 percent in the 2004 report." Experts think this is the result of a combination of tighter prescribing, which cuts off easy access, and kids being more aware of just how dangerous these substances can be.
There's also some complicated stuff going on with regard to teens' attitudes toward marijuana. "About 24 percent of all students said they had smoked marijuana in the past year, virtually unchanged from 10 years ago," reports the Times. "But that number could soon rise, because vastly fewer young people said daily marijuana use was harmful: Whereas 58 percent said so in 2005, only 32 percent did this year."
On the one hand, it's good that the counterproductive scaremongering about weed is wearing off, but on the other, it's not a great idea for 15- and 16-year-olds to be smoking pot every day.