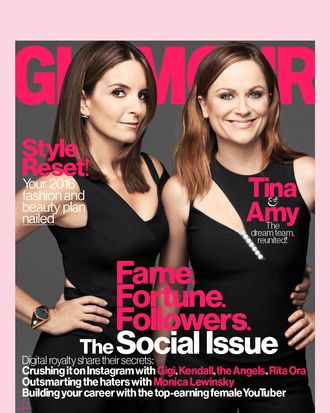 Sisters.
Photo: Steven Pan/Glamour
Tina Fey and Amy Poehler — best pals for two decades, beat that — are the latest Glamour mag cover stars, in anticipation of their upcoming film, Sisters. And they've got some spanking-new sex tips for you (that do not involve spanking).
The interview — which comes as a part of the Glamour "social media issue" — features the comedy powerhouses answering fan questions along with some standard ones from the Glamour staff. At one point, an astute fan noted that when Merrill Markoe interviewed the pair in 2005 for the same magazine, their responses to a question about sex tips were "Make sure you don't laugh" (Fey) and "Try not to barf" (Poehler).
But times have changed, and the comedians say these formerly forbidden acts are now A-okay — even encouraged.
"I would say go ahead and laugh," Fey counseled, with Poehler agreeing, "I think I'd say go ahead and barf."
Then, as she does, the great Tina Fey combined both sentiments into the best sex advice we've heard in a while: "You know, anything that's, like, a surprise! Shake it up. Barf a little bit. Laugh until you barf."
Don't mind if we do.