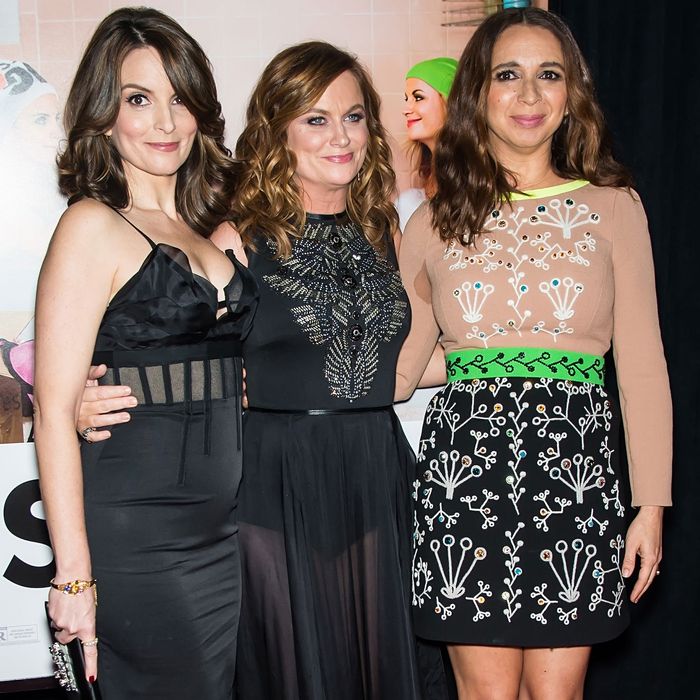 Tina Fey, Amy Poehler, and Maya Rudolph at the Sisters premiere.
Photo: Gilbert Carrasquillo/Getty Images
Whether because of their group-text chain or the joyful contributions to each other's projects, it's hard not to be envious of Tina Fey, Amy Poehler, and the rest of their '00s-era SNL friends. At Tuesday night's premiere of Sisters, the latest comedy from BFFs Poehler and Fey, the whole group of talented comedians was out in full force. The Cut couldn't resist asking them about their friendship, and about #squadgoals in general. Do they compare themselves to Taylor Swift's posse? Is the squad phenomenon a thing to be celebrated, or does it make friendship into too much of a competition?
"Yes, we are the Taylor Swift squad," said Rachel Dratch. "Let's just say better [than Taylor's]. I bring them up at all my concerts." Then she got serious, expanding on why the women of SNL have stayed so connected: "I think it's just a function of being older and having been in showbiz for this long. You try to do your own projects, and hopefully you guys get to cross paths and work together sometimes," she said. "Even since we were at Second City, people always bring each other into stuff they're appropriate for. That's a fun little sorority to be in."
"We're always so happy to see each other — me and Amy and Maya and Rachel and Kate and so many of us who have known each other for a long time," said Fey, but she made sure to note that the SNL group is not a Mean Girls–style clique. "There were also people who were kind of new to us, or relatively new to us, that were so great to work with, like Greta Lee and Samantha Bee. So, the more the better."
Maya Rudolph, who was asked to join the Sisters cast on that famous group text, agreed: "It's such a tiny cluster of people in this weird little universe we used to work at together, so it's nice when we can be together, and especially when we can work together, because those same things pop out of us. We all know each other's voices and rhythms."