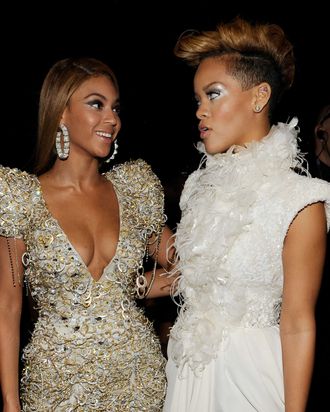 Oh?
Photo: Larry Busacca/Getty Images
Contrary to the popularly held opinion that sports are dumb, the Super Bowl should be a good, fun game to watch this year … as it always is, literally every year. Snacks and beer and yelling are fun and football is fun and the halftime show is fun and what else do you have going on in February anyway? Since we spent all of 2015 trying to shake the stench of the Left Shark from everything within our precious kingdom, the best chance we have of redeeming a year wasted on memebait will be in upping the ante for Super Bowl 2016. Oh, but Coldplay is the halftime show's performer. Snooze.
But wait, not so fast. As is the case every year around this time, rumors start to percolate about potential surprise guests during the Super Bowl halftime show. Last year, Katy Perry got completely outshined by Missy Elliott. This year, will Chris Martin consciously couple with — gasp — Rihanna and Beyoncé? The Mirror seems to think so:
Our Super Bowl insider tells us: "Chris and his band know they're not typically as showy as recent performers like Katy Perry and Madonna with all the dancers and, while they love a light show, they still want to bring a few surprises out.

"Beyoncé and Rihanna are both keen to join in the high-profile ceremony and will add just the spark needed to make it an amazing and unforgettable show."
Coldplay is set to perform for 12 solid minutes, so please pray for this rumor to be true. One last question, though: Where's Anti?