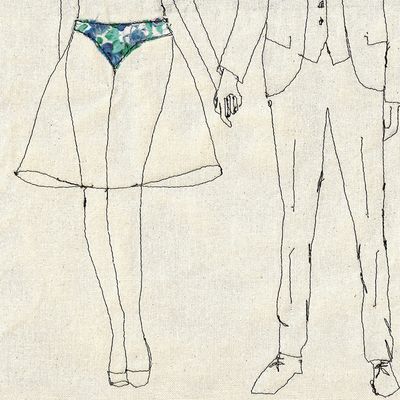 Not the final pair of underwear.
Illustration: Sarah Walton
Recent bride Melanie Mannarina and her best friend, Kelly Ziegenfuss discuss an underwear incident that occurred right before the ceremony. 
Melanie Mannarino: My gown was perfect: a short Angel Sanchez dress that I had gotten at a sample sale, with a double layer of sturdy, stiff silk that didn't require a bra. It was love at first sight. But I never tried on underwear with my dress. Never. It just didn't occur to me. I figured I would wear one of two cute pairs that friends had given me at my bachelorette party. There was a cream-colored lace option and a bright-blue pair. I assumed one of them would work. But 30 minutes before the ceremony, Kelly and I were getting ready in the bathroom. I tried on the cream-colored lace thong first …
Kelly Ziegenfuss: The dress was completely see-through. I said, "Melanie, I can totally see your underwear." I suggested she try on the extra pair that she brought, which was also her something blue.
MM: Of course those didn't work, either. I was in a complete panic by that point, because we had less than half an hour until the ceremony. When my aunt Helen walked into the bathroom, I thought, This is my worst nightmare. I am not the woman who says, "Oh, to heck with it. I won't wear underwear to my wedding." That is not me. I needed underwear, especially because the dress was knee-length.
KZ: Not only was there no time, but we were in the-middle-of-nowhere New Jersey.
MM: Yeah, it wasn't like there was a Victoria's Secret up the block.
KZ: Luckily, I had several extra pairs in my bag. I was worried my own dress would be see-through. So I ripped through my overnight bag and found a very pale pink, no-frills G-string. And it was clean. I just want to make that clear. I said, "Melanie, here, you have to try these."
MM: I tried them on in the bathroom stall, and Kelly said, "Those are perfect. You can't see anything." I said, "Oh, thank God." Afterward, I bought Kelly another pair of underwear. I figured it was the least I could do.
*This article appears in the Winter 2016 issue of New York Weddings.