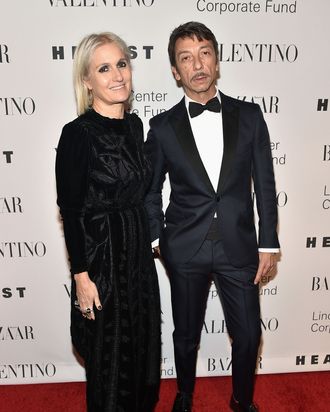 Maria Grazia Chiuri and Pierpaolo Piccioli.
Photo: Theo Wargo/WireImage
Valentino co-creative directors Pierpaolo Piccioli and Maria Grazia Chiuri clearly know what the fashion world is looking for. At the house's fall 2015 runway show, the two brought out Ben Stiller and Owen Wilson in full Zoolander regalia — delighting even the most fashion-y of hardened fashion editors. Monday night, the industry recognized the pair's influence by honoring them with the Women's Leadership Award at the black-tie Lincoln Center Corporate Fund Gala. Valentino muse Keira Knightley presented the award, and the crowd went a little giddy (and stood up to dance) during a dedicated tribute performance by Piccioli's favorite singer Debbie Harry.
Before the event, we had a chance to chat with Piccioli and Chiuri about two subjects very present in the fashion industry right now: the transphobia controversy surrounding Benedict Cumberbatch's ambiguously gendered character, All, in Zoolander 2, and the frantic, exhausting pace of fashion these days.
Let's talk about Zoolander 2. What do you think of the controversy surrounding Benedict Cumberbatch's character in the trailer?
Piccioli: I saw some pieces from the movie. I think Benedict is playing a really interesting character. This new Zoolander is 15 years after the first one, so it's telling new stories and there are different realities. 
It's true, fashion is embracing more gender diversity.
Piccioli: It's what's going on fashion and what's going on in life, I think. Of course, he's extreme, but everything in the movie is extreme. But at the end, when you go deeper, Benedict's character is talking about reality.
Right now, the fashion world is talking about designer burnout. What do you guys think about how fast the collections are coming out and the pressure on designers?
Chiuri: We work fast. We need to go fast, but honestly, we believe that it is important, also, to have the time. Because if you want to do something consistent, something beautiful, it's important. In our company we are really lucky because we are a couture company, and to have something couture, you need time, you need human touch.
Piccioli: But we're lucky enough to do a job that we love. So of course, there's pressure, but we are really lucky to do this job. The world is going fast, as Maria Grazia was saying, and we do a collection, but we are lucky. We don't want to say that we are not lucky. Even with pressure, we do the job we love.
Do you think that the pace could somehow change? For Proenza Schouler's pre-spring collection preview, the designers decided to not allow press to take images as a way to experiment. 
Chiuri: It's difficult to give an answer to this question because in many cases, it depends about the kind of company. Because Proenza is a different company from Valentino. Like Pierpaolo says, we are very lucky because we're doing a job that we love. I think that in any case, if you want, you can find a balance with your job and your life.
Piccioli: I really love Jack and Lazaro. I think that they are doing a very good job. In a way, I think fashion is meant to be communicated, so when you close communication, you lack something. That's what I feel.

This interview has been edited and condensed.