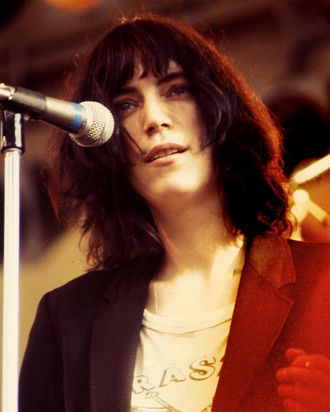 Patti Smith.
Photo: Richard E. Aaron/Getty Images
We all have high hopes for 2016, whether those hopes come in the form of new workout plans or big career goals or late-season cuffing. But sometimes in the organizing of a perfect New Year, we forget that rigorous commitments to annual life change can be stifling and suffocating. Patti Smith, in a Japanese interview filmed in 1978 and recently recirculated by Dazed, has a better idea about how to make things work for you. Just keep on remembering that "this is our golden age."
After a short meditation on peyote and getting high (why not), Smith tells her interviewer, "Everybody says it's finished. 'Oh art's finished, rock and roll is dead, God is dead.' Fuck that. This is my chance on the world."

She continues, "I'm here right now and I want right now to be the greatest time. This is my golden age. This is our golden age."

"This is the time to make it great." Thanks, Patti. Don't mind if we do.