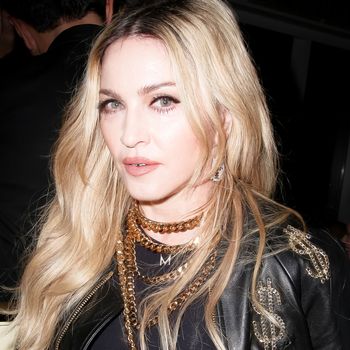 Good luck, Madonna.
Photo: Matteo Prandoni/BFA.com
Did you hear that [something about how Madonna's son Rocco didn't want to be with her during the holidays]? I did — and I've heard enough.
Last week, "Page Six" reported, "Judge forces Madonna's son to spend holidays with her." Early this morning, TMZ screamed, "MADONNA: GUY RITCHIE TRASH TALKED ME TO ROCCO." The Daily Mirror asked, a few hours later, "Are Madonna and Jacqui Ritchie battling with Christmas snaps after Rocco 'refused to spend holidays with mum'?" A few hours later the Daily Mail wanted to let you know, "Madonna's photo war: Battle over her son goes from courtroom to Instagram as singer trades online pictures with her ex's new wife," which is essentially the same story as the previous story but — you see my point.
Something is happening with Madonna and her son Rocco. They went to court, apparently. Rocco didn't want to be with her around Christmastime, maybe because of something her ex-husband Guy Ritchie said.
Hey, uh — you know who else has family drama to deal with over the holidays?


  • Everybody.
Enough with Madonna's family drama.