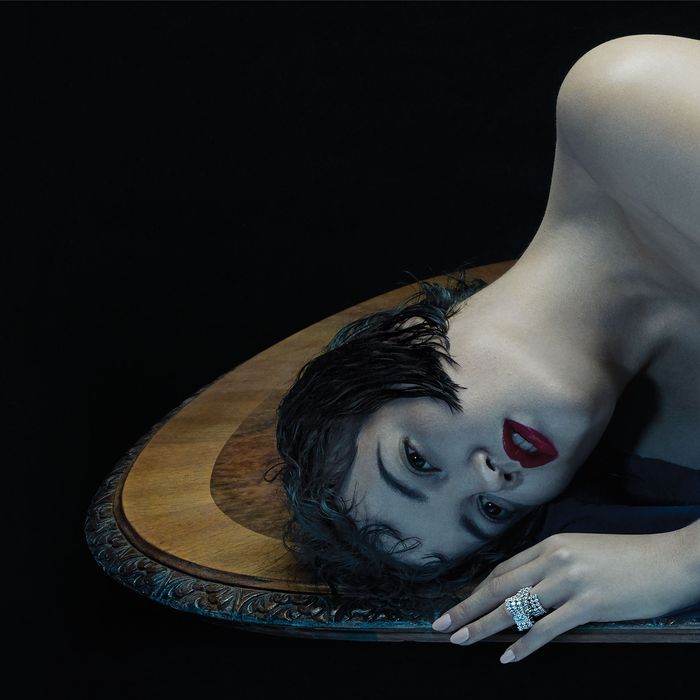 "My fantasy is my reality."
Photo: Nadav Kander
Conversations around body positivity were everywhere in 2015, with Amy Schumer, Serena Williams, Kylie Jenner, Miley Cyrus, and many others posing near-nude in celebration (and sometimes manipulation) of the female form. Even models are reveling in a range of new forms and speaking up for more realistic conceptions of beauty. For the Cut's latest fashion editorial, photographer Nadav Kander (known for his portraits of porcelain nudes) joined stylist and Chanel collaborator Lady Amanda Harlech to capture raven-haired fetish model Tessa Kuragi in all her glory.
Kuragi wears practically nothing but the most immaculate fine jewelry from Chanel and a slick pair of Alaïa booties (a nod to her bondage leanings). The shoot included Harlech's team of stylists (her daughter Tallulah, and her first assistant Chris Sutton). Click ahead to see Kuragi's portrait, arranged in a painterly tryptic by Kander.
Styling by Chris Sutton and Tallulah Harlech. Hair by Philippe Tholimet at Streeters using Oribe hair care; makeup by Pep Gay at Streeters; nails by Stephanie Staunton at Carol Hayes Management. Consulting stylist: Amanda Harlech.
*This article appears in the December 28, 2015 issue of New York Magazine.