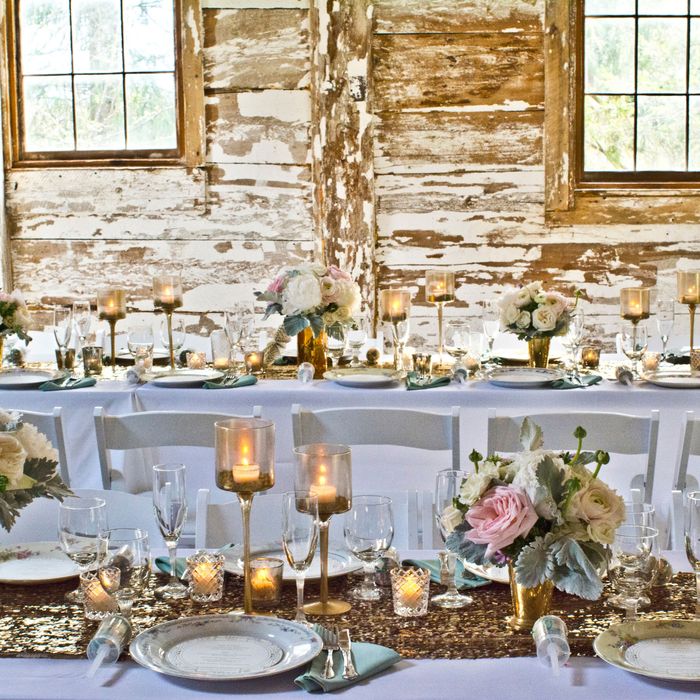 How to throw a perfect day wedding.
Photo: Angela Cappetta/Corbis
It's cheaper, and you can eat scrambled eggs. Here, five experts offer tips on how to pull one off.

The Caterer
Mile End, 646-494-9508; mileenddeli.com 
Mile End can supplement its classic menu of spreads and smoked fish with more newfangled options like beet-cured lox and salt cod with caviar, and it will even go off-menu for the big day: One couple requested the restaurant transform its poutine from midnight snack to luxurious breakfast fare. "When we put bacon and a soft fried egg on top, it became this awesome take on home fries," says partner Joel Tietolman, who notes that an extravagant top-tier brunch menu works with most budgets. "You can go all out — with smoked salmon, sablefish, white-fish, and scrambled eggs — and it will still be half the price of bad wedding chicken."
Sample Menu
*Brunch platter with Black Seed bagels, cream cheese, smoked salmon, egg salad, tomato, onion, and capers
*Mish Mash scrambled eggs with vegetables and housemade salami
*Salads: tuna, whitefish, and kale tabbouleh
The Dress Shop
The Bridal Garden, 212-252-0661; bridalgarden.org
For daytime ceremonies, Bridal Garden stylist Vivienne Ragan steers brides toward simple silks and away from gowns featuring elaborate beading or crystal detailing. "If you're getting married at two o'clock in the afternoon, when the sun is out, fewer embellishments are best," says Ragan. "I like silk charmeuse or silk organza gowns in champagne or blush colors." Provided they flatter the bride's coloring, soft pastel colors other than the classic white or ivory can look great with natural light flooding into a room. In terms of length and silhouette, Ragan favors a "just-below-the-knee look" or an A-line skirt with a fitted bodice. And she notes that Lela Rose and Ivy & Aster are popular designers for daytime brides.
The Bartender
Elderberry Catering at Edi & the Wolf, 212-610-9552; elderberrycatering.com
Elderberry's head bartender, Kasia Krupinska, firmly believes day drinking creates a carefree buzz. Take the high point of one of her recent afternoon weddings: "The groomsmen and best man started stripping to 'Sympathy for the Devil.'  They were totally synchronized, but as they slowly backed up, and really got into their number, they fell into the pool." To help make the early boozing go down easier, Elderberry works with couples to develop signature drinks featuring fresh juices, citrus, and "lots of sparkles."
An Updated Mimosa
"Main Squeeze"
1 oz. tequila
¾ oz. Aperol
¾ oz. orange juice
½ oz. lemon juice
Prosecco
1 orange
Shake the top four ingredients, top with prosecco, garnish with an orange wheel.
The Event Designer
Polka Dot Events, 646-300-3320; pdotevents.com
"Go big on elements that you wouldn't notice at a night wedding, when it's dark," says Tracey Goldstein, the founder and chief coordinator of Polka Dot Events. "In natural lighting, you can really appreciate details like custom letterpress menus and escort cards."
Décor Tip: Avoid formal centerpieces (which require expensive uplighting) and cover the tables in ivy, with some scattered flowers, as Goldstein coordinated for a day wedding at the Wythe Hotel. "It all felt very natural; plus, it won't cost more than a regular centerpiece."
The DJ
DJ Ceremony; 646-279-8777; djceremony.com
"The first three songs are the most important, since they ignite the party and tap into the feeling of the crowd," says DJ Ceremony, who has over 14 years of experience DJ-ing in New York. For daytime events, when people tend to be more reluctant to get on up, Ceremony uses a high-energy playlist that he intensifies with what he calls "encouragement" — getting on his mike and demanding everyone boogie. "Normally, you put on the Jackson 5, and people know the drill. But if you're finding it challenging to get things going, then you go to your arsenal: You talk more, you encourage more. Maybe I have to say, 'Okay, guys, I'm going to pick up the pace, and I want to see you!' I have to say those kinds of DJ-y things that normally I don't have to say." If you'd rather not attempt to replicate the vibe of a midnight dance party in the middle of the day, make sure your DJ's playlist reflects that up front. "One of the couples I DJ-ed for wanted to cultivate a cocktail-party atmosphere," says Ceremony. "I didn't play anything newer than the '70s. It was all disco to give it a classy, sophisticated feel."
Day-Party Kickoff Songs
1. Hall & Oates's "You Make My Dreams"
2. Marvin Gaye's"Got to Give It Up"  (Part 1)
3. Stevie Wonder's "Sir Duke"
*This article appears in the Winter 2016 issue of New York Weddings.