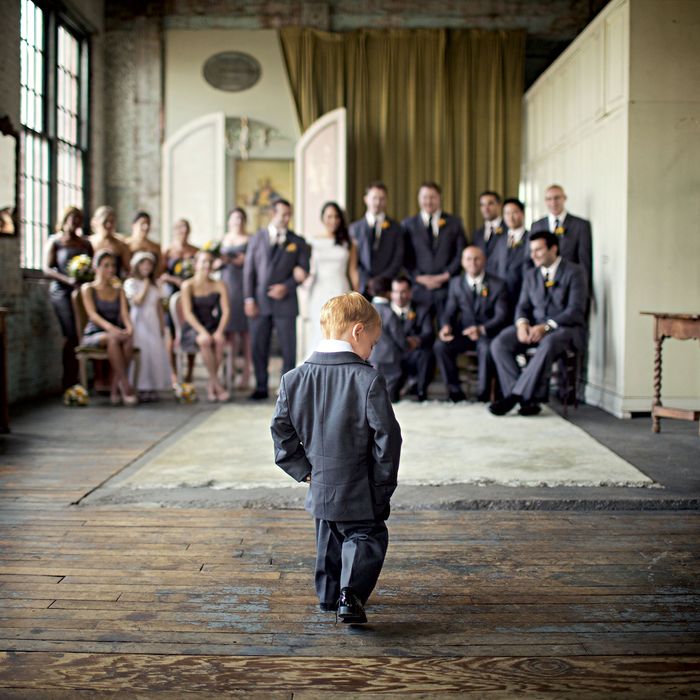 Jack David stealing the show.
Photo: Weddings for Two by Tinsel and Twine
Yes, the kids may have a mid-aisle tantrum, but the crowd loves a ring bearer and flower girl. Ahead, cute moments from eight real weddings where the youngest guests were stars.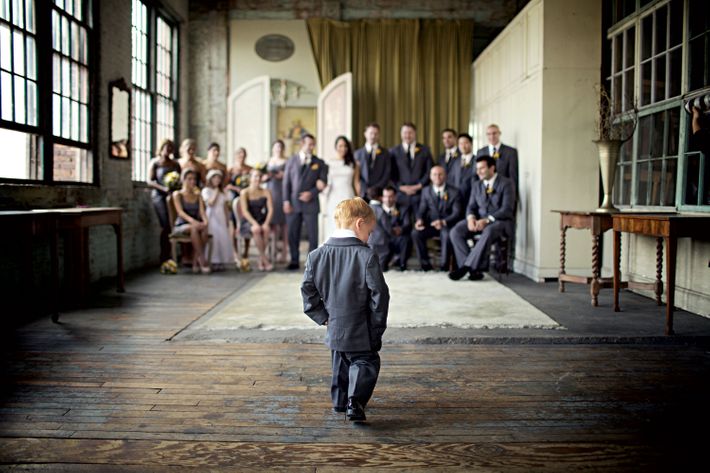 "Jack David was being awfully shy, and it was a group effort to coax him to come over and sit with his dad, who was also the best man. Someone had the idea for us all to sing 'The Wheels on the Bus,' and he finally joined the wedding party." Deana Napolitano-Caputo & Nicholas Caputo, physical therapist, orthotist. Married: September 22, 2012, at the Church of St. Vincent Ferrer. Reception at the Metropolitan Building. Photograph by Weddings by Two for Tinsel & Twine.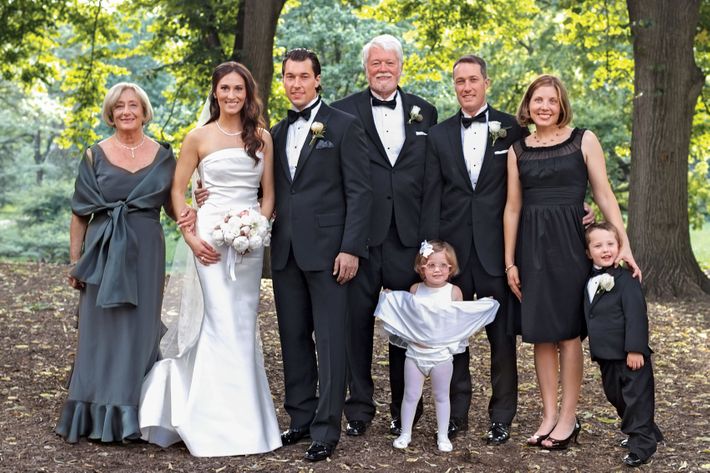 "Our niece, Maddie, was having a hard time smiling for the camera. Her parents were behind the photographer, asking over and over again if she'd grin. For some reason, she took their pleas to mean lift up her dress—but at least she looks happy in the photo." Sarah & Curtis Watkins, equities salesperson, investment analyst. Married July 18, 2014, at the Church of St. Ignatius Loyola. Photograph by Kimberly Coccagnia.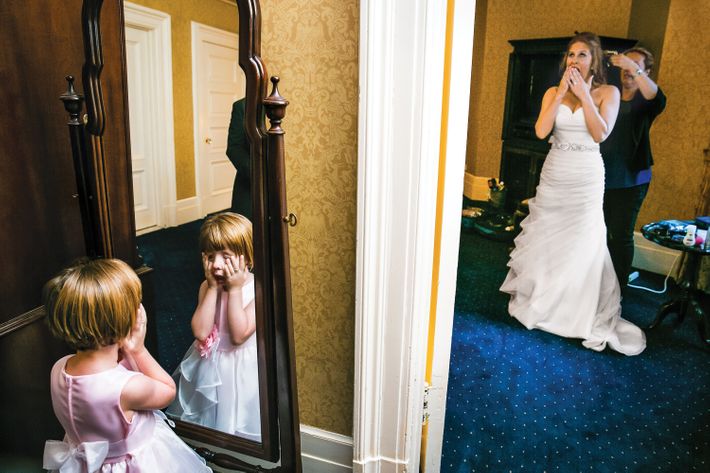 "When it came time to put on my dress and head out for the ceremony, the excitement of the day had begun to get to my goddaughter, Kylie. She was such a trooper throughout the busy day, and when she saw me yawn, she must have taken it as a sign that it was okay to let off some steam too." McKenzie Mahoney Roman & David Roman, food-and-beverage publicist, investment managing director. Married September 20, 2014, at the University Club. Photograph by Kelly Williams.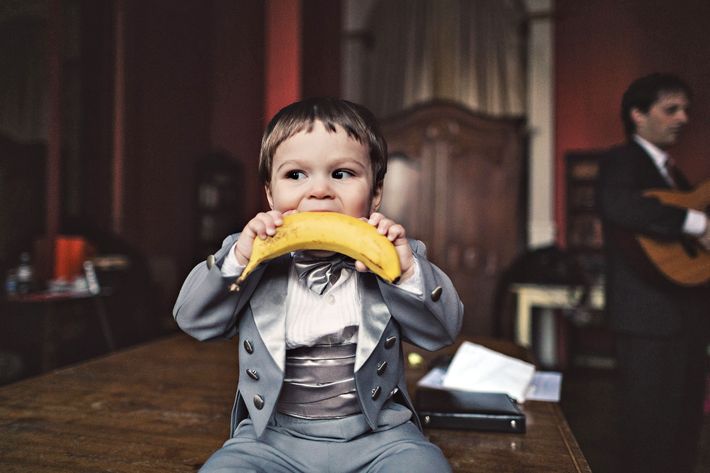 "Jonah was 18 months old at the time. He had just finished running around the entire wedding venue, and we were trying to calm him down to get ready for the marriage-license-signing ceremony. His mom had put him back up on the table to try to readjust his tux — which kept coming off — and the banana happened to be sitting there. Jonah picked it up and started playing with it. Everyone was pretty relieved he had found something to occupy himself with for a few minutes." Liz & Gabe Turow, graphic designer, artist. Married October 26, 2013, at the Metropolitan Building. Photograph by Inbal Sivan for Tinsel & Twine.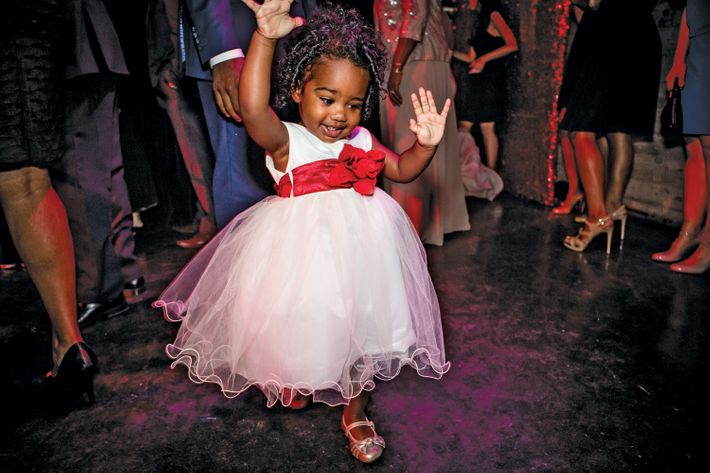 "Kami is the daughter of one of my best friends. She was only 17 months old when she was our flower girl, so she had basically been practicing standing and walking for the wedding her whole life." Shara & Robert Watkins, education-technology success manager, litigator. Married September 6, 2013, at Galapagos Art Space. Photograph by Farnaz K Studio.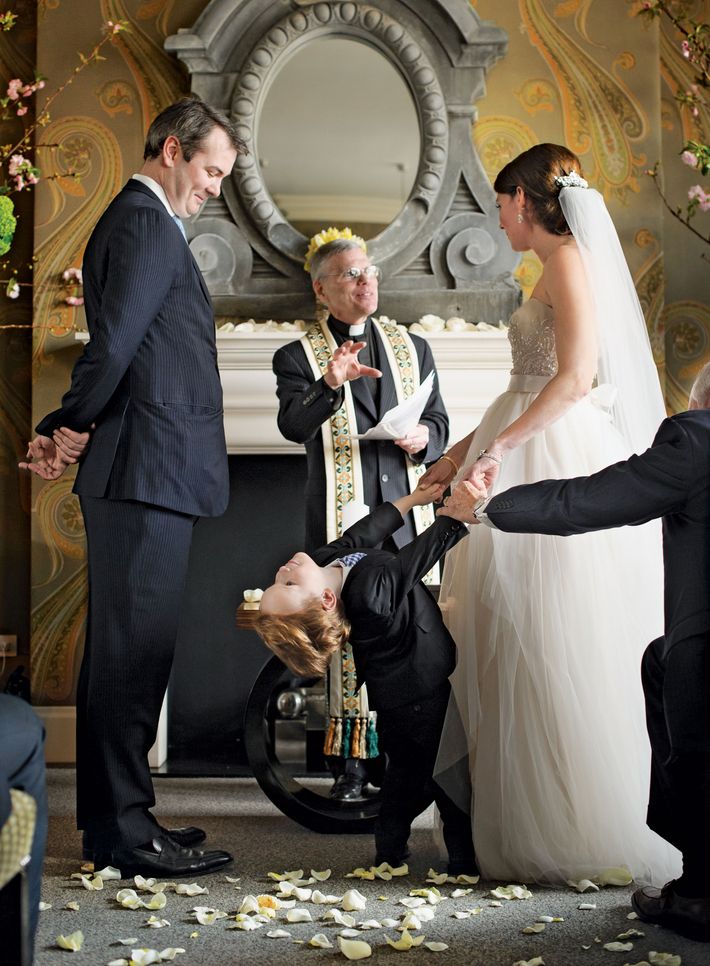 "Campbell's attention span for anything other than cartoons is pretty short. At this moment, we were about ten minutes into the ceremony. The priest was talking to us about the importance of family in our marriage. At the mention of children, Campbell hopped up and felt he needed to be part of the action." Jessica & Robert Murphy, director of research for an asset-management platform, investment banker. Married March 14, 2014, at the Crosby Street Hotel. Reception at 11 Madison Park. Photograph by Brian Dorsey Studios.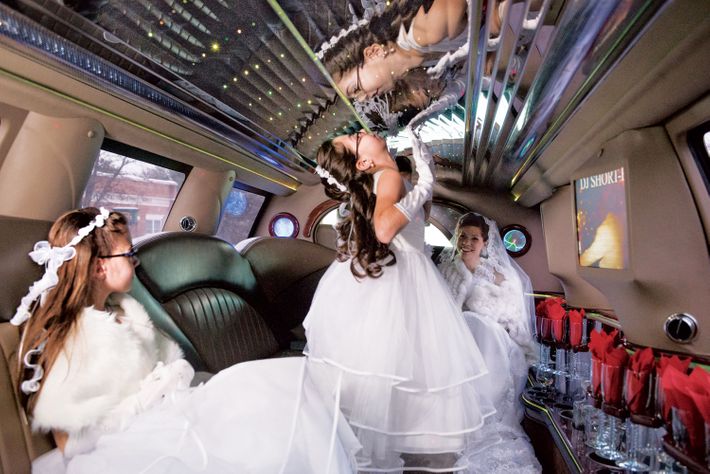 My three girls had never ridden in a limo before, so they were excited, to say the least. Funnily enough, when we were almost at the venue, I realized I had left behind my bouquet. The girls were not the least bit upset that we all had to spend double the time in the car." Elina & Michael Rosenblum, user-experience and user-intelligence designer, software architect and database administrator. Married February 8, 2015, at a private residence. Photograph by Tatiana Valerie for Artvesta Studio.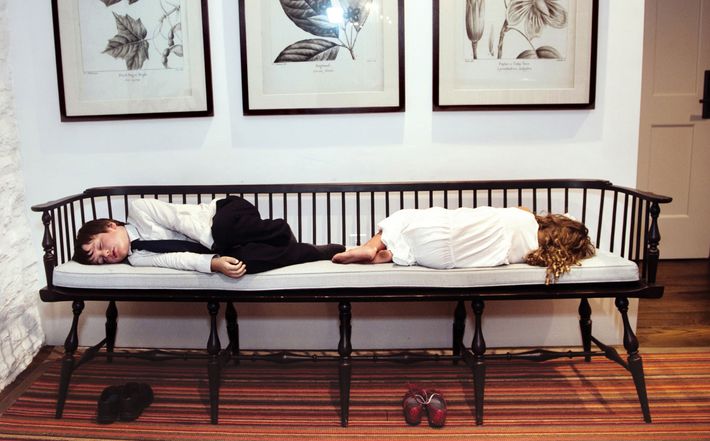 My niece and nephew came all the way from Ireland to celebrate with us. My niece was so excited about the wedding that she woke up at 4 a.m. to help me get ready. By 10 p.m., our little ring bearer and flower girl were falling asleep at the table, so their parents found them a quiet bench to take a nap on. They slept through the rest of the evening and missed the cake cutting. The next morning, we let them eat some." Dora & Luc Allain, recruiter, IT manager. Married September 2, 2011, at the New York Botanical Garden. Photograph by Lina Jang.