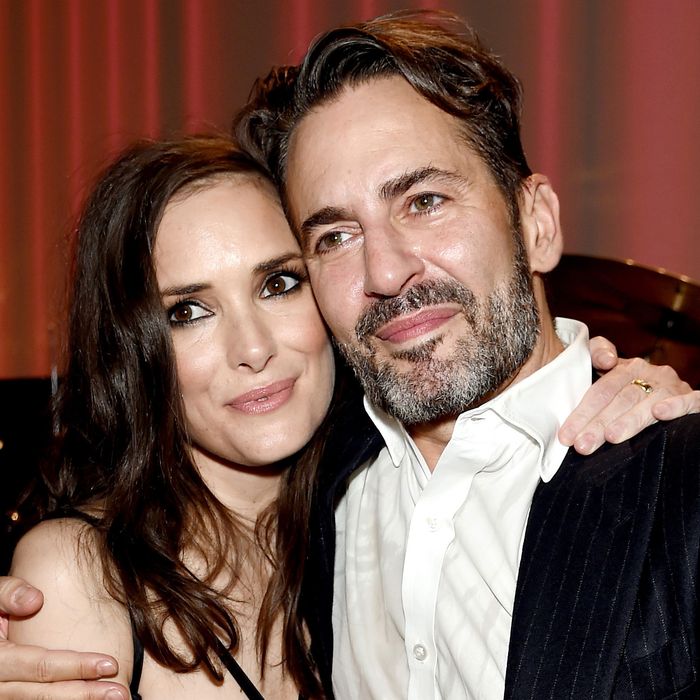 Winona Ryder and Marc Jacobs.
Photo: Jamie McCarthy/Getty Images
Monday night, Marc Jacobs revealed on Instagram that Helen Mirren's tenant (and actress) Winona Ryder will be the 2016 face of his beauty line. Previous beauty spokesmodels include 64-year-old Jessica Lange.
Jacobs accompanied the announcement with the first image of the campaign, which shows Ryder with a dramatically arched brow and liner and nude lips, shot by David Sims with makeup by Diane Kendal and hair by Guido Palau. In the caption, he references the 1961 film The Last Year at Marienbad (caps all his):
I am reminded of one of my all time favorite films: The Last Year at Marienbad. The flawless cool, elegant and timeless chic of actress Delphine Seyrig has long been a reference of mine. The force of the surreal calm, and painstaking fetishistic polish of this film and its heroine are truly 'ON FLEEK' and continues to inspire me to date. No one I know could exude the adjectives I've listed as perfectly as Winona does … She does not model the look she gets into the role- and exudes it! A brilliant mind, talent, and physical beauty like no other, I am delighted to share this image of Winona with my IG fans and followers today.
Although this is the first time Ryder has fronted his beauty line, she's previously appeared in a 2003 campaign, as well as one for fall-winter 2015, making it clear that he, like many of us, believes in "Wino Forever."