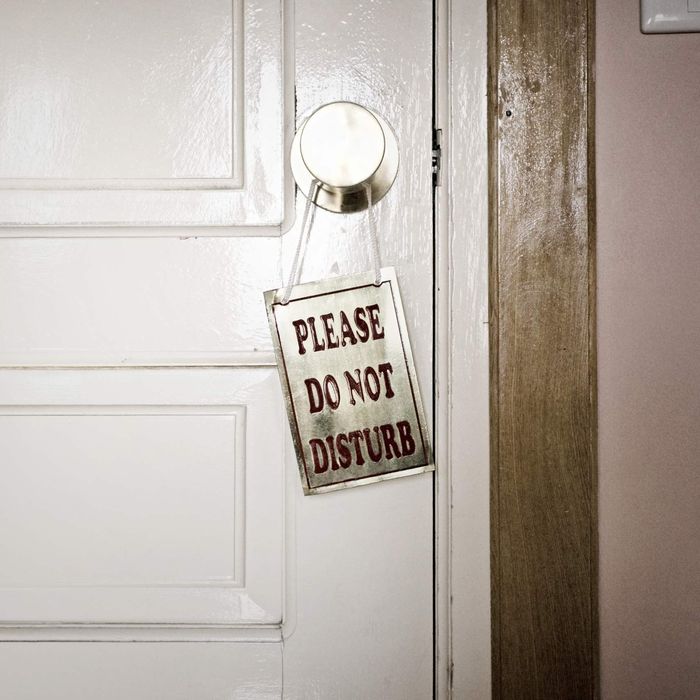 Photo: Thom Lang/© Corbis. All Rights Reserved.
New York's Sex Diaries series asks anonymous city dwellers to record a week in their sex lives — with comic, tragic, often sexy, and always revealing results. This week, a 30-year-old advertising account executive hits the Jersey Shore with her married, polyamorous boyfriend: female, 30, Prospect Heights, single, bisexual.
DAY ONE
6:45 a.m. Get in the shower and daydream about my upcoming weekend with the Professor. He is married and poly; we met at a bookstore in Brooklyn. He was dating another woman, but we both recently ended things with all other lovers (apart from his wife) and have just been seeing each other exclusively. (His wife also has a lover. She's super into him.)
8:45 a.m. One of the guys I recently blew off (gently) was a journalist I was seeing. He just told me to "have a nice life." I'm shocked, and decide to block him. I can't deal with this right before my trip.
10 a.m. It's the last day of work at my ad agency before the long weekend. I am so checked out. Professor and I get to sleep together for the first time this weekend — literally sleep over together. Professor and his wife have a rule: No sleepovers at each other's lovers' apartments, but vacations are fair game. I feel so happy.
1 p.m. Professor asks if I'm feeling bad because he didn't come up to midtown and see me during lunch. We'll sometimes go to our favorite hourly hotel (and he'll pack a lunch for me to take back to the office). But we're about to spend the whole weekend together for the first time; we can wait one more day.
9 p.m. Actually, we can't wait another day. I put on a tight dress and some eyeliner to go watch football together. We make out in a dark sports bar. Go, Cardinals!
11:30 p.m. Definitely caught a buzz, and my head is spinning just from all the kissing at the bar. I keep replaying different moments in my mind. I'm happy, but suddenly very tired. I'm getting ready for bed when I sit down to pee and notice the red stain on my underwear. Dang.
DAY TWO
7 a.m. I can't believe I got my period before my first romantic trip with the Professor. I also can't believe I signed up for an ab-ripper cardio class this early. At least when I get there I realize that the teacher is really hot. I push my limits a little harder than I should to impress her.
10 a.m. I'm in Union Square, trying to spot the Professor and our rental car. I melt when I see him.
3:30 p.m. We arrive to our weekend destination and check into the hotel. You can see the ocean from our room. We drop our bags, fall onto the bed, and get naked very quickly. During the course of our relationship, he's quickly figured out that missionary is my favorite position — a surprisingly vanilla twist for the poly-minded gal. Not that everything we do is totally vanilla. We've also been trying anal everything lately. (Butt plugs! Beads! Flavored lube!) Eventually I let him fuck my ass until he comes inside of me. I realize no one has ever come inside my ass before.
7 p.m. After hours of lovemaking — as he likes to call it, something I thought was cheesy before I met him — we stop for smoke breaks and he talks about his wife and daughter, how they used to vacation here. It's heartwarming to see his face light up when he talks about his family. It's also a huge relief knowing that I can spend time with this incredible man and not feel pressure to take things to the next level. He's already been there. I don't want to go there. We are perfect for each other in this moment.
8 p.m. We walk around this quaint little seaside town, and we go to an adorable restaurant where the waitstaff are dressed like sailors.
10 p.m. We get back to our hotel room, really feeling the wine we drank at dinner. I'm ready to jump back into bed, but I check my phone to see a text from Red. We met in a yoga class. She calls me her Viking Princess. Normally her little kittenish texts turn me on, but lately I only have eyes for Professor.
10:30 p.m. We fuck for hours again. It's almost as if our lovemaking transcends time — once we fucked for four straight hours, and I thought that only 30 minutes had passed. I fall asleep in his arms, with my face pressed against his chest. My heart is full.
DAY THREE
5:30 a.m. I wake up in a blissful state, still pressing my face against his perfect chest. I admire the hair on his chest and stomach, kissing it all the way down to his pelvic bone. He's already hard again. I go down on him until he comes inside my mouth. I taste the metallic flavor and remember that I am still on my period. I feel bad about the bloodstains on the sheets and wonder if housekeeping will want to know where we hid the body.
7:30 a.m. I shower while he makes breakfast — he actually brings eggs and rolls to make my favorite New York breakfast. Too cute! I'm starting to feel too good. Too high. I feel the beginning of a comedown. Nothing can feel this good. That's when I start thinking about my ex, who is at my apartment watching my dog. In the shower I start to weep.
8 a.m. Here we go. I'm about to have my first emotional meltdown in front of the Professor.
9 a.m. I confess that I am feeling bad. I don't cry, thankfully, but I do put on my serious face and let him know that I'm overstimulated in several ways. I can't explain it, but he lets me try, and asks the right questions. We talk about Ex-Boyfriend, Journalist, Red, even the Artist. I need fresh air. We go to the beach.
11 a.m. It's unseasonably beautiful out. The sky is blue, and we're walking by the water without our coats on. He looks so sexy in his sunglasses. I get high using the one-hitter that the Artist made for me. Professor doesn't usually smoke, but we both get stoned and sort of disappear into another dimension of space and time. The ocean is special to me — I grew up in a landlocked state. We both did, actually, within 100 miles of each other. We hold hands and walk for a long time, even though it feels like only a few minutes. My love for him intensifies.
4 p.m. I want Professor bad, but my body is feeling drained from being on my period. The walk was also long, and overall, I felt exhausted from so many emotions. Even the good ones. All I wanted to do was turn my mind off and feel every inch of this incredible person lying next to me. He kisses me everywhere so softly. He can feel how tired I am. He makes love to me softly and slowly at first, holding each other tightly while looking at each other's faces. I fall asleep in his arms for a delicious nap that lasts until it's dark.
7 p.m. After two solid days of comfortwear, I decide I should dress up. I'm already feeling a little sad about tonight being the last night together until who knows how long.
9 p.m. At dinner I discover that we are way more compatible than I realized before. I really am looking for the intellectual/emotional/sexual connection. I realized that without all three, I am settling. I tell him about my trifecta of relationship needs, and we both smile at each other stupidly, knowing that we've hit the jackpot.
DAY FOUR
7 a.m. I wake up, and the bed is empty. Professor must be out smoking on the terrace, watching the water. I am fine with this. If love were a drug, surely we would overdose by now. Professor puts the "Do Not Disturb" door hanger in my bag. I'm not the most sentimental girl, but I feel like I will keep it forever.
4 p.m. We finally get back to the city. I'm walking to the 4 train. My heart is so full, it could explode.
5 p.m. Back home, and I think my heart exploded. Or I overdosed. Or I'm not totally sure, but the comedown from the weekend is in full effect. I cry. I WRITE A POEM. (Professor is the poet. Not me. This is embarrassing, I realize later.) I eat all the saltwater taffy. I cry more. I tell the Professor I am feeling bad. He understands.
DAY FIVE
6 a.m. I wake up sad. Still! Why am I sad? I just had quite possibly one of the best, most romantic weekends of my life, and I feel like death. Do I feel undeserving? Was it my period? Professor will never want to take me anywhere again if this is how I react to our vacations together.
8 a.m. I'm crying on the train. Yep. This is happening. I'm trying to hide my face from all the Monday-morning commuters.
9 a.m. I spend the entire morning texting with Professor over what could possibly be wrong. I realize I'm scared of our amazing thing ending. In the past year, I dated two men who disappeared on me at the height of the intensity of our relationship. It hurt so much.
12 p.m. I write a note to my boss saying I need to leave early. Not feeling well. Everyone saw how excited I was to leave before my trip, and now I can barely speak. Boss tells me to get some rest. I go home, pull the blankets up over my head, and cry.
6 p.m. I fall in and out of sleep. Professor has texted me, but I was too sleepy to reply. I forgot that my phone sends read receipts. Professor sees that I read the text but didn't respond. He has his own mini-freakout — afraid that I'm ending things with him. I think this is adorable, but I feel bad and tell him everything.
DAY SIX
4 a.m. I have a work trip to Minneapolis. I'm tired, but I'm so happy and so in love.
10 a.m. What is it about falling in love that makes you so attractive to everyone else? Not only does every ex come out of the woodwork, but random strangers throw a lot more eyes than I'm used to. I feel like I'm glowing.
7 p.m. I arrive at the client party and have to fall into character. I have to pretend I'm very interested in every little story and detail that my clients share.
11 p.m. I get back to my corporate hotel — so different from my romantic getaway with Professor. I touch myself while I think about him, but I don't make myself come. I'm just stuck in a loving haze filled with memories of our weekend together. I haven't watched porn in a long time.
DAY SEVEN
11 a.m. I arrive at JFK after another early morning flight. Man, I'm tired. My boss was so impressed with how I handled the clients at the party that he told me to take the afternoon off. No problem! Since Professor is done with classes for the semester, he rushes right over to make love to me all afternoon. All worries and doubts melted away.
7 p.m. Professor leaves. He needs to get back to his wife and daughter for dinner. I'm so grateful that his wife is so cool with everything. She said she would never veto me, and in fact looks forward to meeting me one day. I feel so happy.
Want to submit a sex diary? Email sexdiaries@nymag.com and tell us a little about yourself.