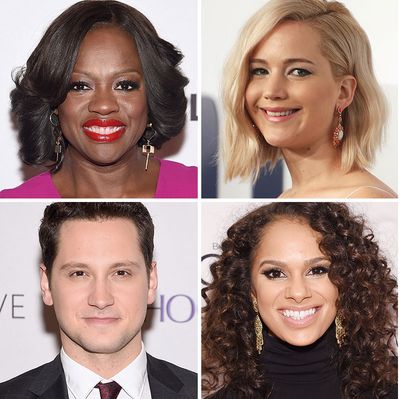 An unprecedented year.
Photo: Getty Images
When it comes to famous people talking publicly about women's rights, this year has been unprecedented. Below, the Cut tracks the past 12 months of gender discussion in pop culture, from Amy Schumer's most popular sketches to Jennifer Lawrence's demand for equal pay. Read on for a month-by-month look at celebrity feminism in 2015.
JANUARY
Céline casts Joan Didion: The French label won reams of positive press by choosing the 81-year-old author to embody its feminine ideal. A month later, Kate Spade cast 94-year-old Iris Apfel alongside Karlie Kloss in its spring campaign. Meanwhile, 70-year-old Helen Mirren continued as the face of L'Oréal Paris — upholding her original condition that no pictures would be Photoshopped to make her appear younger. It was a good year for grand dames, relatively speaking.
Ryan Gosling, feminist recruiter: A study found that the Feminist Ryan Gosling meme, created years ago by Vulture contributor Danielle Henderson, made men in the experiment show "significantly more endorsement for radical feminism … and marginally more endorsement for socialist feminism." Even though Science of Us fairly questioned the validity of this news, we'll take it.
FEBRUARY
Patricia Arquette's Oscars speech: While accepting the Oscar for Best Supporting Actress for her role in Boyhood, the actress called for equal pay and rights for women – though her divisive remarks backstage sort of ruined the moment. At the same time, the #AskHerMore Oscar campaign urged red-carpet reporters to focus on women's accomplishments more than their appearances.
MARCH
Monica Lewinsky's TED Talk: Lewinsky took control of her story and called for an end to internet shaming. "When this happened to me, 17 years ago, there was no name for it. Now we call it cyberbullying," she said.
APRIL
"Last Fuckable Day": According to Amy Schumer, it's the day Hollywood tells you your "vagina is going to turn into a hermit crab." Schumer, Julia Louis-Dreyfus, Tiny Fey, and Patricia Arquette called out the sexism of aging out of Hollywood, and they nailed it.
MAY

"12 Angry Men": In yet another brilliant Amy Schumer sketch, male stars like John Hawkes and Jeff Goldblum put the comedian on trial to determine whether she's "hot enough" to be on television. "The jury agreed they would bang you," says Dennis Quaid, playing the judge. "You're hot enough for basic television."
JUNE

Caitlyn Jenner debuts: Vanity Fair's July cover featured the stunning first photographs of Caitlyn Jenner, formerly Bruce. "I'm so happy after such a long struggle to be living my true self," Jenner said in her first tweet after the reveal. "Welcome to the world Caitlyn. Can't wait for you to get to know her/me."
Misty Copeland gets promoted: Copeland became the first black, female principal dancer in American Ballet Theater's 75-year history. "I never saw a ballerina who looked like me before," she said at the Time 100 Gala. "And I'm here to be a vessel for all these brown ballerinas who have come before me." The documentary A Ballerina's Tale, released this fall, tells her story of getting there.
Ariana Grande rallies her sisters: Grande was fed up with having to talk about men all the time after an interview with the Sun. So she took to Twitter and posted a well-received feminist essay, elaborating: "Any woman who chooses to behave like a full human being should be warned that the armies of the status quo will treat her as something of a dirty joke … she will need her sisterhood."
JULY
Miley displays pit hair: It's was a big year for Miley all told, but this move, in a strapless Jeremy Scott dress at the AmfAR gala, still makes our list. She joined Jemima Kirke, Madonna, and others who have taken to exposing their pits on red carpets past.
Matt McGorry, celebrity ally: After Instagram flagged and removed topless photos of Miley Cyrus, Chrissy Teigen, and Chelsea Handler, the Orange Is the New Black star posted his own (very attractive) take on the "Photoshop the Nipple" protest. And then in August, he tweeted this astute observation: "I'm not a feminist because ___
a. I don't know that it simply means believing in gender equality
b. I'm an asshole ."
Amandla Stenberg speaks out: "Black features are beautiful, black women are not," the 16-year-old Hunger Games actress posted on Instagram, after criticizing Kylie Jenner's photo of herself in cornrows in another wise Instagram comment. "As culture shifts and racial tensions are tested through the vehicle of the #BlackLivesMatter movement, it is important to question: Do black female lives matter too?"
SEPTEMBER
Serena's smackdown: When a male reporter gave Serena Williams a hard time for not smiling, she didn't sugarcoat her response. "To be perfectly honest I just don't want to be here right now," she said succinctly. "I just want to be in bed right now."
Viola Davis wins an Emmy: As the first black woman to win for Best Actress in a Drama Series, Davis gave an empowering speech that stood out even in a night full of feminist moments. "The only thing that separates women of color from everyone else is opportunity," she said. "You cannot win an Emmy for roles that are simply not there."
OCTOBER

Jennifer Lawrence wants equal pay: In Lena Dunham's Lenny Letter (launched in September), Lawrence opened up about her struggle to get paid the same as her male co-stars. "I'm over trying to find the 'adorable' way to state my opinion and still be likable! Fuck that," she wrote. "I don't think I've ever worked for a man in charge who spent time contemplating what angle he should use to have his voice heard. It's just heard."
Zendaya slams Photoshop: The 19-year-old actress called out Modeliste magazine for retouching her photographs and promoting unrealistic beauty ideals. "Had a new shoot come out today and was shocked when I found my 19 year old hips and torso quite manipulated," she wrote on Instagram. "These are the things that make women self conscious, that create the unrealistic ideals of beauty that we have." The magazine took the photo down and replaced it with the original image.
Michelle Obama's feminist playlist: The First Lady picked her favorite empowerment anthems for International Day of the Girl. The playlist includes tracks by Beyoncé, Diana Ross, Aretha Franklin, and Janelle Monáe.
NOVEMBER
Women of Hollywood, interviewed: For a New York Times Magazine cover story, Maureen Dowd spoke to more than 100 Hollywood insiders, investigating the film and TV industry's gender problems. In a special issue of The Hollywood Reporter, Jennifer Lawrence, Cate Blanchett, Kate Winslet, Jane Fonda, Carey Mulligan, Brie Larson, Helen Mirren and Charlotte Rampling talked to Stephen Galloway about pay equity, ageism, and sexism. And in a Variety cover story on the same topic, Sandra Bullock called for respect, not just pay.
Stephen Colbert wants feminist emoji: On The Late Show With Stephen Colbert, Colbert presented a few emoji suggestions for guest Jane Fonda's approval, including "A Woman Leaning In," "70 Cents on the Dollar," "A Burning Bra," and "Miley Cyrus." Yeah, we're in.
Gabourey Sidibe shuts down fat-shamers: In an essay for EW, the plus-size actress responded to haters and the nasty memes that arose after her sex scene on the show. "I, a plus sized, dark-skinned woman, had a love scene on primetime television," she wrote. "I felt sexy and beautiful … Honestly, I'm at work too busy to check Twitter anyway. #Booked. Hope you enjoy next week's show!"
Reese Witherspoon talks dirty: Think of "a really dirty word," Witherspoon said, baiting her audience at Glamour's Women of the Year Awards. The word she had in mind was ambition. "See, I just kind of started wondering lately why female ambition is a trait that people are so afraid of." The actress was unsatisfied with film execs shrugging off the fact that movies weren't being made with strong female leads. So she chose to work on Gone Girl and Wild, which have grossed over half a billion dollars.
DECEMBER

Cate Blanchett calls for more than just talk: In a GQ profile, the actress discussed Hollywood's gender gap, and said what we're all thinking. "It just feels like the industry has the same conversation … We'll be back here like Groundhog Day next year having the same fucking symposium. It just has to shift."