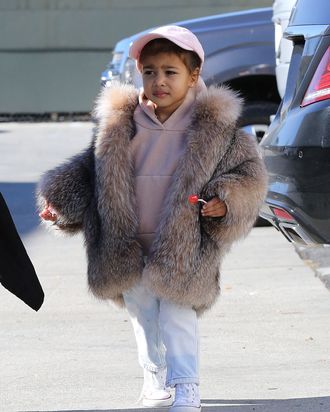 Strong look.
Photo: Jack-Nic/X17online.com
North West is only 2 years old but she has already managed to pull off more ambitious and trendsetting outfits than I will in my entire lifetime and my afterlife. It pays to have well-dressed millionaire parents, I suppose (one of whom was just voted GQ's Most Stylish Man of the Year for the second year in a row). Out in L.A. with her Aunt Kourtney on Tuesday, North served a strong look in a pink hat and sweatshirt that was topped with a not-ostentatious-at-all-and-clearly-weather-appropriate fur coat, accessorizing of course with a lollipop.
Will North West be venturing into the fashion industry? Uh, do you see this COAT?