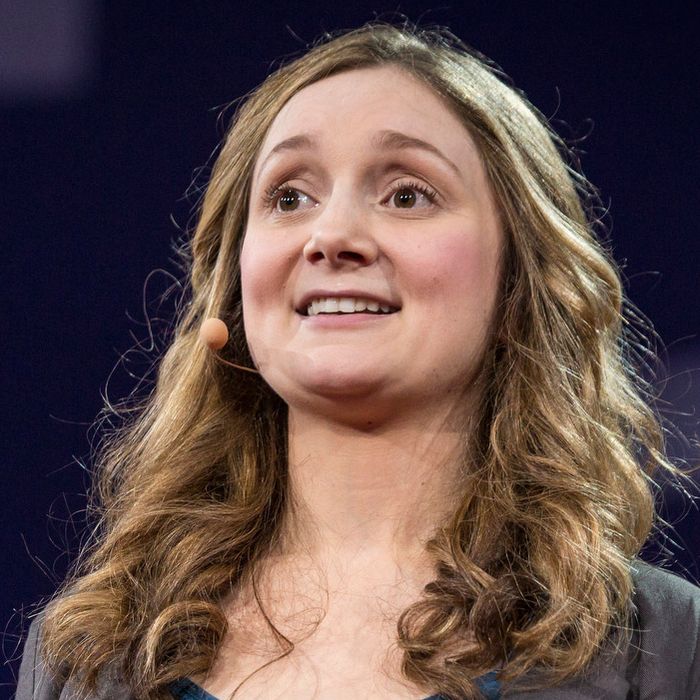 Alice Goffman speaks at TED2015.
Photo: Bret Hartman/TED
Not too long ago, you may recall, the sociologist Alice Goffman's ethnography of a working-class, black Philadelphia neighborhood, On the Run: Fugitive Life in an American City, sparked a fierce controversy, with some detractors claiming Goffman had fabricated or misrepresented key elements of the critically acclaimed book.
On June 18, two long articles about Goffman's work were published within a half hour of one another. Here at Science of Us, I wrote about how I had gone to Philadelphia and found two of Goffman's subjects (I briefly met a third, but he didn't want to talk to me), and spent a bit of time with them in an attempt to learn more about the years when On the Run takes place and confirm various aspects of what Goffman had written about their lives. As far as I could tell, everything that was immediately checkable, including at least one dramatic, Hollywood-esque detail, checked out — though there was certainly plenty of stuff I wasn't able to confirm in my limited time in Philly. In meeting and corresponding with Goffman herself, I also tried to learn a bit more about who she was and why she seemed to be having a tough time defending herself from the critics alleging she had committed grave sins against academic integrity.
In an essay at Slate, Leon Neyfakh explained that much of the controversy over Goffman came down to a single question: "[W]hat are the rules of ethnography, and who enforces them?" You'd be excused for thinking this is a dry query, but it isn't. In his fascinating piece, Neyfakh took readers  through all the professional obligations and practices — some of them conflicting — that Goffman had to grapple with during her massive project, and he argued that the very nature of how ethnography is conducted makes it impossible for it to be fact-checked like other types of nonfiction writing. And some ethnographers, in part constrained by these obligations and practices, see themselves as working with a different conception of truth, anyway: "If you told a sociologist they got a particular fact wrong, they'd say, 'Well, that doesn't matter — what's important is that it's true in a bigger sense,'" the Harvard sociologist Christopher Winship told him. "We can talk about a piece of fiction as being true or not — as in, would real people actually act that way? — and I think sociologists and ethnographers fall back on that."
Now Gideon Lewis-Kraus weaves all of these complexities together into a really satisfying story in The New York Times Magazine, explaining the stakes of the controversy in the way only a keen, careful observer — one who spent a lot of time thinking it through and hanging out with with the young sociologist at its epicenter — can. His article is largely a profile of Goffman, giving readers a much fuller sense of her than I was able to, but also a zoomed-out look at the multiple critiques that popped up, why they were so potent, and why some of the more general ones are simply the latest generation of long-running qualms about the roles of sociology and ethnography in telling the stories of marginalized people.
Anyone who is fascinated by this controversy should read the whole piece, but here are three key questions I got from it, and a few thoughts on each:
What is the right way to respond to a witch hunt? I know some people will bristle at the use of witch hunt here, but the lengthy anonymous critique of Goffman that popped up and launched the hottest phase of the controversy clearly pushed things into that category. It contained a firehose of allegations, the vast majority of which were unfounded. As Lewis-Kraus, notes, "At the recommendation of her trade publisher, Goffman prepared, but did not distribute, an almost equally lengthy point-by-point response to the charges, and her department investigated the accusations and declared them without merit."
Lewis-Kraus (unlike myself) was able to convince her to let him have a look:
It is blunt and forceful and, in comparison with the placidity of her public deportment, almost impatient and aggrieved in tone, and it is difficult to put the document down without wondering why she has remained unwilling to publicize some of its explanations. She acknowledges a variety of errors and inconsistencies, mostly the results of a belabored anonymization process, but otherwise persuasively explains many of the lingering issues. There is, for example, a convincing defense of her presence in the supposedly closed juvenile court and a quite reasonable clarification of the mild confusion over what she witnessed firsthand and what she reconstructed from interviews — along with explanations for even the most peculiar and deranged claims of her anonymous attacker, including why Mike does his laundry at home in one scene and at a laundromat in another.
It says something about Goffman's personality that even when her very career and reputation were on the line, she only fought back hardest in a document she had no plans of making public. Imagine an anonymous attacker arguing that you had simply made up vast swaths of the most important professional work you had done to date. Wouldn't you want to vigorously defend yourself in public?
In my brief time with her, Goffman never really came across as having that impulse — her preference seemed to be to keep her head down and keep working. On the one hand, there's a case to be made that if she had been able to explain herself clearly, the controversy wouldn't have ballooned the way it did. On the other hand, for the people convinced she was a fabricator or exploiting her subjects or whatever else, the rebuttal document may have just given her more material to work with.
To what extent should a scholar's group identity matter? For some of her critics, Goffman's identity as a white woman studying a black community was itself troubling, and implied serious problems with the project overall. As I wrote in June, that critique came up during a "somewhat heated … author-meets-critics event held at [the August 2014's] meeting of the American Sociological Association that filled the room[.]" As Lewis-Kraus notes, it also spread out into the mainstream discussion of the book; he references a tweet by BuzzFeed's Tracy Clayton, for example, which read, "projects like this make me uncomfortable and angry. ban outsider ethnographies."
These concerns come from a valid place: There is a long, unpleasant history of white ethnographers tromping into unfamiliar terrain and writing condescending, inaccurate, stereotype-reinforcing things about the inhabitants they encounter. But there's a wide chasm between acknowledging this and arguing that Goffman's whiteness was inherently problematic. Scholars who agree to devote huge amounts of time to understanding the nuances of a given subject should be given the benefit of the doubt, regardless of their own group-identity status.
There were some rather unfair reviews of On the Run that seemed to center more around Goffman's identity than around good-faith attempts to evaluate her work. Take this one in The New Inquiry: The author took issue with the fact that Goffman openly admitted that, as a 20-year-old, she wasn't yet well-versed in the class dynamics of black Philadelphia; complained that Goffman wrote that "Miss Linda's" house smells bad (I was there; it does, unfortunately); and noted that "fieldwork itself reproduces modes of knowing straight out of plantation slavery, plantation management, and plantation geographies that were laboratories for black subjection and black resistance," comparing a situation in which Goffman became close friends with a group of people and, with their consent, wrote about them, to slavery. Are these fair standards by which to judge a work of ethnography that took more than six years to produce, which tells the stories of a rather wide range of subjects, and which consistently treats those subjects with humanity and subtlety? There has to be some balance between very real concerns about identity and representation and the fact that sometimes scholars are fascinated by different groups and want to learn more about them — and that the knowledge they gain from doing so can benefit society on the whole.
What will On the Run's legacy be in the long term? As I wrote in my piece, I fell into this story because I was excited by the prospect of going to Philadelphia and proving that Alice Goffman had made stuff up. In the end, I came to believe there was vastly more smoke than fire when it came to the allegations of impropriety. Overall, this is a very important book for anyone who wants to understand a set of very complicated issues.
I do think that in many ways Goffman was sloppy: Philip Cohen is right to roundly criticize the "survey" of Sixth Street residents she presents in her book, which doesn't appear to have been conducted with nearly enough methodological rigor to have earned the title; she often wrote about legal concepts and events without enough clarity and specificity; and she often was a bit too credulous in taking the word of her Sixth Street informants at face value when it came to their legal wranglings (not because they were lying, but because they themselves often didn't fully understand exactly what was going on — just like pretty much anyone who is batted around by the legal system). And her response to many of these claims, that it was more important to present her subjects' views on these subjects than the "official" accounts that are so often privileged in our society, only gets her so far: It's not like you can't both tell your subjects' stories and check certain details for consistency along the way. But that's not Goffman: As Lewis-Kraus points out, she is someone who is simultaneously capable of pulling off a massive research undertaking, and also rather scatterbrained when it comes to day-to-day organizational minutiae.
Whatever the book's eventual legacy, no one can argue that it didn't spark some important conversations — not just about its stated subject matter, but about the messiness of trying to capture someone else's truth.