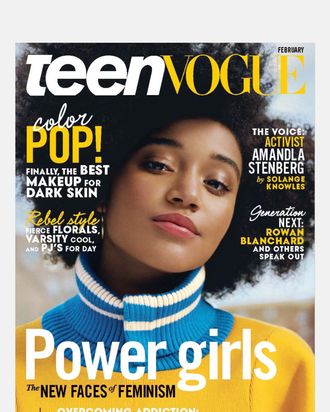 Amandla Stenberg.
Photo: Teen Vogue
Amandla Stenberg — fearless teen, role model, actor — was interviewed by none other than Solange Knowles for the cover of Teen Vogue's feminism issue. Needless to say, Stenberg looks proud and beautiful on the cover, and in the story she drops nuggets of wisdom like this one:
"I think that as a black girl you grow up internalizing all these messages that say you shouldn't accept your hair or your skin tone or your natural features, or that you shouldn't have a voice, or that you aren't smart."
Knowles and Stenberg talk about everything from natural hair and cultural appropriation to social media to Stenberg's forthcoming comic book. Oh, and her envy-inducing teen-girl squad.
Oh, man. Well, Kiernan has been by my side since the beginning. Willow is amazing. I feel like we were just meant to be friends. We were kind of vibing off each other from afar, and then she hit me up and was like, "Let's hang out!" She has the most magnetic, radiant energy ever. Whenever we hang out we just laugh and we sing and we dance and we go hiking. And then Tavi — I was the biggest Rookie fan since forever. I checked it daily, hourly. Then Rookie asked me to do an interview, and now Tavi is one of my closest friends. We talk about everything and bounce ideas off each other; I send her some of my scripts, and she sends them back. I have a friend who has this thing called "shine theory," which basically says that when you become friends with other powerful, like-minded people, you all just shine brighter.
The shine theory that Stenberg refers to her was coined in a column on this very website, written by Ann Friedman.
But it was on Teen Vogue's Snapchat, which Stenberg temporarily took over, where she came out as bisexual, expressed the importance of representation, and told viewers that she's sick of all the misogyny in the world. "I definitely believing in the rebellion of selfhood." Words to live by.