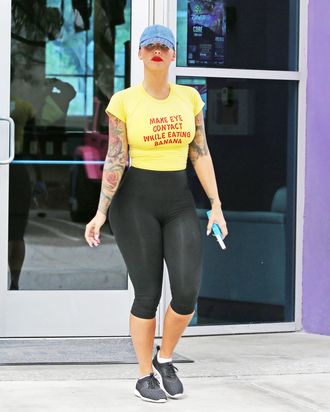 Words for Ye.
Photo: Premiere/CPR/FAMEFLYNET PICTURES
Kanye's now-deleted Twitter firestorm against Wiz Khalifa yesterday included variously petty, insulting highlights: While defending his new Waves album title, he called his ex-girlfriend Amber Rose a stripper and hotly contested the true inventor of skinny jeans. As such, a few hours after Amber Rose entered the fray to shut it down with these tweets …
… she wore a tight yellow T-shirt with words for Kanye and any hater anywhere: "MAKE EYE CONTACT WHILE EATING BANANA." Because nothing says "I own my sexuality and I don't care if it makes you uncomfortable, KANYE" like aggressively empowered banana-eating.