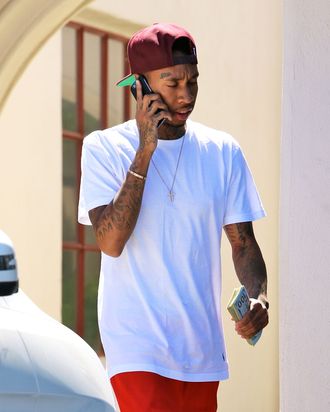 According to People, 14-year-old model and aspiring singer Molly O'Malia has received unwanted and "uncomfortable" messages from Tyga on Instagram. O'Malia came forward Monday night during a press conference with high-profile lawyer Gloria Allred, who is also representing at least 28 of the women currently involved in the Bill Cosby sexual assault and misconduct case.
O'Malia claims Tyga initiated contact stating, "I thought that it could possibly be about my music, but he did not mention that in his initial communication with me. I thought that was strange, but I was thinking he would bring that up in his next message to me. However, he didn't mention it in the next message." During the press conference, O'Malia wept denying false reports published in OK! magazine suggesting that she and the rapper had a sexual relationship and insists that after he asked to FaceTime her three times and meet in person, she ended their communication.
TMZ talked with Tyga's manager, Anthony Martini, and admits that the rapper had a conversation with O'Malia but only to scout her musical talent. Martini insists Tyga thought she might be a candidate for a Last Kings Records project and that their conversations were strictly business. As far as the request to FaceTime three times, his rep says Tyga only wanted to talk business and see her sing as he sat in the studio with his producers.
This post has been updated throughout.