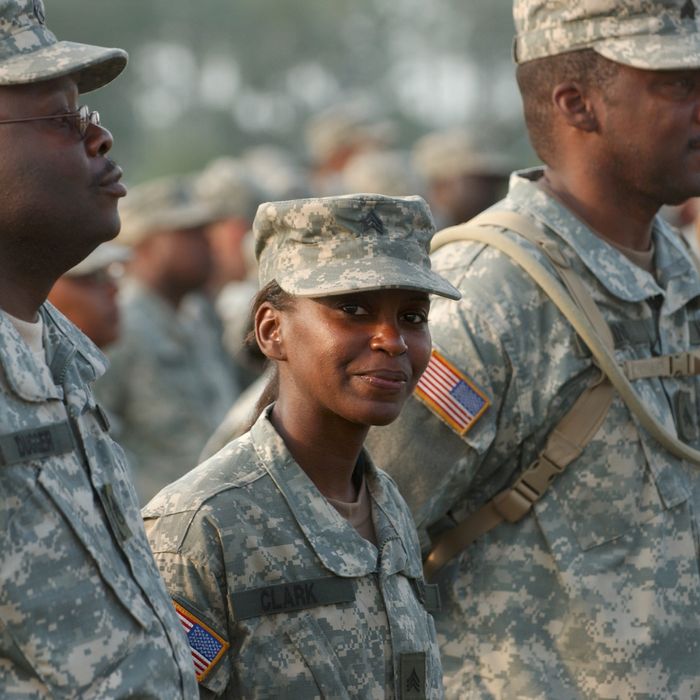 Photo: Peter Turnley/Corbis
The U.S. Military announced a new, across-the-board maternity-leave policy that will grant female service members 12 full weeks of paid time after having a child. This is double the amount of time that members of the Army have been granted previously, but a cut for the Navy and Marines, which have had 18 weeks since last July.
The Defense Department also raised paternity leave from ten to 14 days, and will install "mother rooms" in military facilities with more than 50 female personnel.
Secretary of State Carter said in his announcement that the military is making these changes to "support military families" and "improve retention," as well as to incentivize new women to join up. And though the military clearly needs to balance giving women the time they need to bond with their newborns with the necessities of an active military, it may seem a bit shocking that the policy is just now reaching 12 weeks, a length found in many corporations nationwide. Employees of the federal government of the U.S. have no paid leave, and are granted 12 weeks, unpaid time under the Family Medical Leave Act only. 
There's no reason not to beat this dead horse here: The United States is the only industrialized nation (besides Papua New Guinea and Suriname) with no paternity-leave policy. The fact that the military is making a conscious effort to further support its families is good news for everyone. But having no official federal policy on paid maternity leave ultimately hurts every citizen, and forces families — especially the mothers — to make very hard decisions.