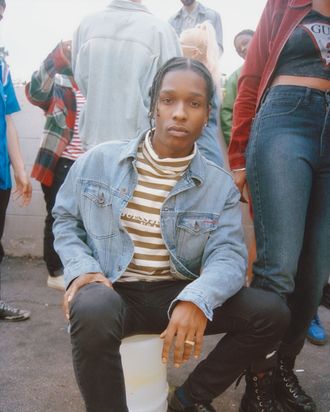 A$AP Rocky in his Throwback Thursday–esque GUESS campaign.
Photo: Icon/GUESS
Inside a corner storefront on the Bowery, a couple of dudes are trying to hang a neon version of the GUESS triangle logo. The windows are made of one-way glass and look blacked out from the outside, so every couple of minutes, some passerby stops to peer curiously into the space. Little do they know that in here, we've rewound a couple of decades. The whole place is styled like a '90s rec room — complete with NBA-themed video games (one frozen on a menu displaying a pixelated Charles Barkley), Alf and Green Hornet comic books, a VHS library that ranges from Tae Bo tapes to Pretty Woman, even a slightly lumpy corduroy couch. Depending on your perspective, it's a fun #tbt, or, for those of us who recently entered our 30s, a harsh reminder that time's wingèd chariot is hurtling ever nearer.
It's all in service of A$AP Rocky's line for GUESS Originals, which is, to say the least, heavily inspired by the decade — the rapper ventured into the archives to find pieces from the era to re-create. (Pieces from the line will be available for preorder on January 30, at retailers including Opening Ceremony; the full collection will launch February 15 at GUESS stores and online.) At a launch party later that night, promises a press release, guests can look forward to "munching on iconic nineties after school snacks and spiked punch."
Rocky, who was sitting in the back of the venue at a picnic table covered with packages of Pop Rocks (presumably, the "iconic snacks" in question), spoke to the Cut about his '90s memories, why you'll see him walking around with a Super 8 camera, and the reason he wants to have a daughter.

You came to GUESS with this idea, originally. Were there specific designs you remember from growing up that you wanted to re-create?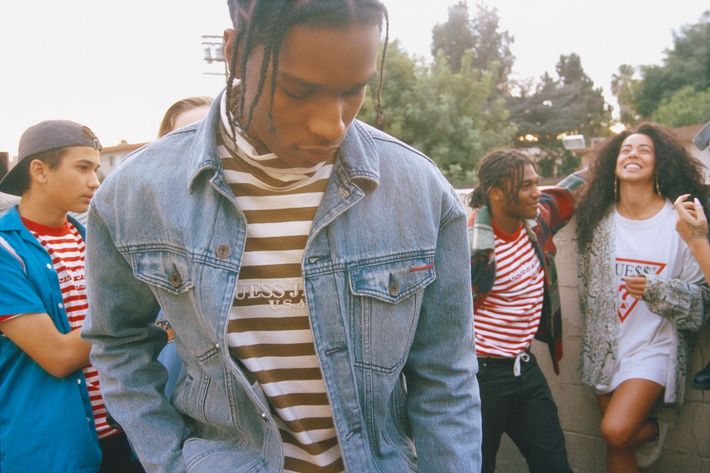 The collection feels very much of that era, especially with the logo tees and the overalls you styled with a single strap. How did you give it that throwback feel?
Well, I actually went into their archive and picked those pieces. I went in.
I like what you did with the logo — replacing the S's with your dollar sign.
It's kinda tight, bringing that back. I've never seen a GUESS tee with their logo in the middle like that.
You were just at London Collections: Men. Which designers are you excited about, from the shows that you saw?
I only went to one show, J.W. Anderson. I wish I would've gone to see Jeremy [Scott]'s stuff, because Jeremy's always doing wacky and fun designs. It's always good to see his stuff and support him.
And I saw that you were wearing the Gucci fur loafers while you were there.
Those are mine. When I say those are mine, it's like a figure of speech. It's like, All mine.
Other people can't wear them.
I wear those in the house. I was actually just chilling in my hotel room [in them].
Wearing them as slippers in a hotel room is probably the most baller thing you can  do.
That is kind of jiggy, huh? You just swagged me out.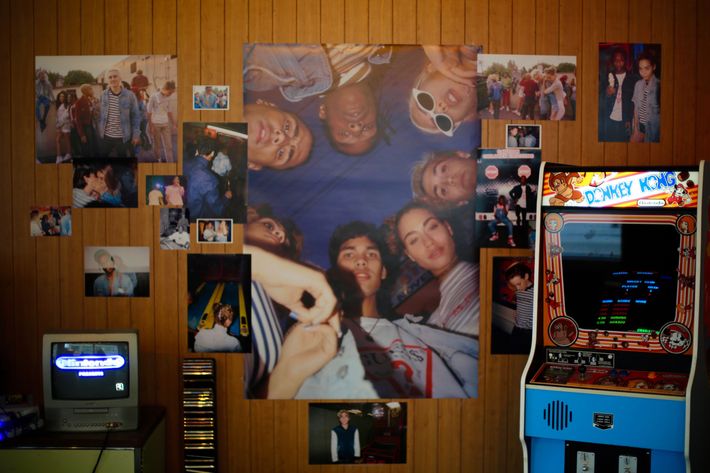 You're headlining this coming Coachella. What other headliners are you excited to see?
Axl Rose, man, he's the man. I can't wait to get there, it's going to be fun.
You've been filming on a Super 8 camera at fashion shows. Are you still working on that project? Can you say anything about what it's for? 
For now I'm just collecting footage.
Why did you get into Super 8 initially?
Because it's so old, and no one actually makes complete films out of them anymore. People prefer digital. It's fun. Not just anybody can do it.
I read an interview with you in this month's British Vogue where you said you really want a daughter.
I'll take a son. I want a daughter, though.
Would she be the best-dressed girl on the block?
For certain. That's why I want one!
A lot of times, I find men will say they want a son and women will say they want a daughter.

My son, I feel like I would corrupt him. I need to get a little older before I can have a son. Right now, if I was to have a child now, I would want to have a daughter. It would help me mature times, like, 30 — or 50.