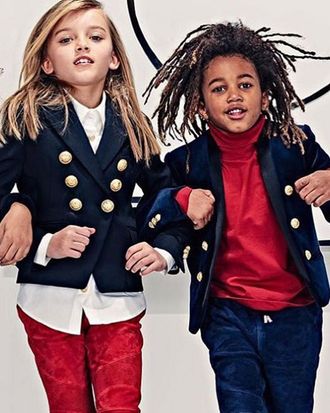 Blalmain kids on the way to the club.
Photo: oliver_rousteing/Instagram
Today on Instagram, Balmain designer Olivier Rousteing debuted images of his upcoming kids' line for the fashion house. Looks (that were previously only available to toddler VIPs like North West) include bold double-breasted blazers that can take you from the playroom to the boardroom, and jungle-gym-ready gold-toed ankle boots. Per the brand's Twitter feed, the collection comes out in June.
"These are the same looks that, over the years, moms and dads have repeatedly pleaded with me to produce for their kids," the designer told Women's Wear Daily. With prices going up to $5,950 for an embroidered dress, however, you'll probably have to be on a Kanye budget.