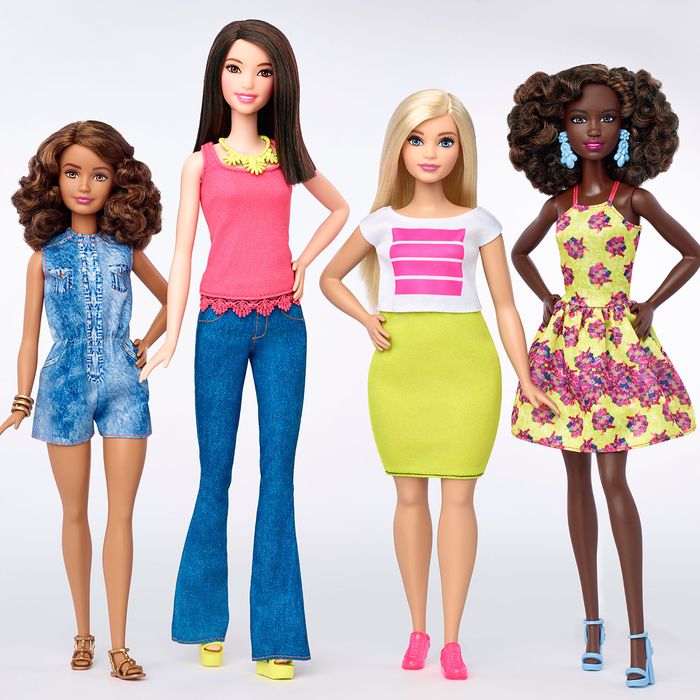 Barbie's always been judged for her looks. Though her maker, Mattel, would argue that she was a career girl long before it was common for women to have jobs, her image has always been tarnished by the fact that, proportionally, she doesn't quite add up.
It's not just that she's bone-thin, though she is: Her body doesn't make sense (arms and legs too long, insane waist, crazy neck). And one of the only concerted efforts to study the effects of Barbie's form on the body images of young girls wasn't encouraging: The study, done in 2006, found that girls who played with Barbies were more likely to worry about being thin.
Today, Mattel, whose Barbie sales have been challenged by a wide variety of competition — Elsa and Anna of the Disney princess dynasty, Bratz dolls — announced it's adding three new Barbies to its lineup. In addition to the "original" Barbie, who remains lithe in the extreme, it's adding a curvy doll, a tall one, and a petite one. Certainly most of the commotion will be made around the curvy doll, as Barbie's most irritating physical trait has always been her thinness. In a feature in Time, Mattel admitted that Curvy Barbie has tested controversially with its 7-year-old subjects: Though most stop short of calling the doll "fat," there are more than a few that "snicker."
Children have a weird, almost natural desire to see themselves represented in doll form. Even as toddlers, they compare their toes with the toes of their "baby," and in recent years, this has led doll-makers for the very young to begin producing anatomically correct infant dolls. It's common today to take the diaper off a doll and find that it has something resembling a penis or a vulva, something that certainly would have shocked most of us 30 or 40 years ago. Mattel — criticized for not representing reality — has clearly heard the message and is trying now to push in a better direction. Maybe one day, it will even stop bathing Barbie's packaging and toy aisles in Pepto pink.