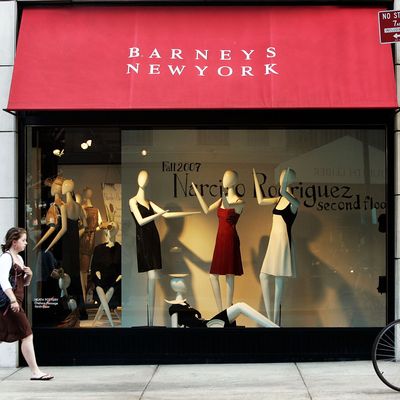 Barneys New York.
Photo: Mario Tama/Getty Images
Trayon Christian walked into the Barneys flagship three years ago and treated himself to a $349 Salvatore Ferragamo belt. As he was leaving the store, the African-American student was apprehended and detained in a holding cell by undercover cops who accused him of using a fraudulent debit card to buy the belt. Among the questions he says they asked him: "How could you afford a belt like this?" and "Where did you get this money from?"
Christian ended up suing Barneys New York and the NYPD, claiming he was racially profiled. "Shopping while black" and "shop and frisk" became a part of the national conversation. Protesters picketed the store, and Kanye West, Jay Z, and Al Sharpton all weighed in on the controversy, with West even devoting a mid-concert monologue to the issue.
Of course, the legal system moves less than swiftly. In August 2014, Barneys agreed to pay out $525,000 in fines, and was required to hire an anti-profiling consultant and to put employees through training on the issue. Now, it has awarded Christian a $45,000 settlement as well, per a report from the Daily News today. That buys 128 Ferragamo belts, by the way.