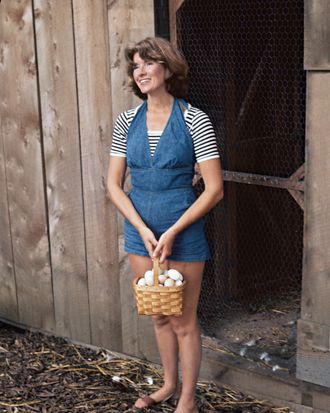 Martha Stewart outside her chicken coop, 1976.
Photo: Susan Wood/Getty Images
If the fact that Yoko Ono was just 2.5 years old when she first performed on a stage makes you feel inadequate, know that Martha Stewart was in her 40s the first time she truly felt she impressed a crowd — by decorating a party with her own live chickens, no less. You can read more about their breakthroughs in New York's "Beginnings" feature, along with how Dita Von Teese first practiced burlesque with a fake ID and Carrie Brownstein wrote a song called "You Annoy Me" in high school. There's also actors and directors like Jill Soloway and Helena Bonham Carter, writers like Jennifer Egan and Sheila Heti, powerhouses like Tavi Gevinson and Misty Copeland, and short reminiscences from Helen Mirren and Salt-N-Pepa. Click here to read those and dozens more, including from George Clooney and Ta-Nehisi Coates.