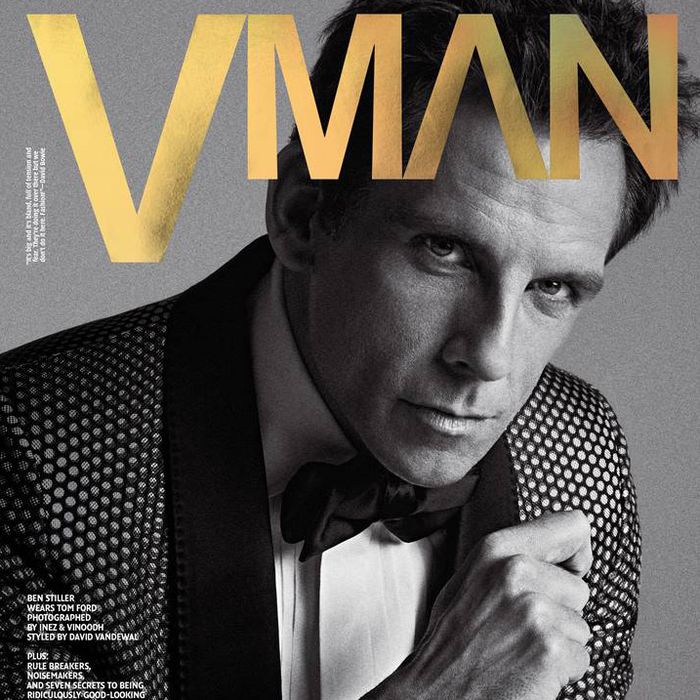 Left, Ferrari; Right, Le Tigre
Derek Zoolander is on a roll. After some time away from the camera, the male model landed the cover of this month's Vogue and is now brooding on the cover of V Man, shot in glorious black and white by Inez & Vinoodh and wearing a Givenchy dad hat. Talk about a late-in-life turnaround.
All kidding aside, Ben Stiller, the person, seems to have the male-modeling thing down at this point — considering he's done so much of it onscreen. He talks to Tim Blanks about what it was like to walk the Valentino runway ("I think there was such a reaction because it was so unexpected in such a serious arena"), Derek embracing selfies ("once he figures out how to flip the camera around to take the picture"), and what it's like to play a 50-year-old male model ("People don't want to see people get old in that world").
And in the issue, on newsstands February 18, Stiller also reveals the unlikely inspiration behind the sequel: "I saw the Valentino documentary [The Last Emperor], and it occurred to me that Rome would give us the opportunity to add a crazy Italian movie vibe to the film … We wanted it intentionally overcomplicated, like The Da Vinci Code." Hopefully Zoolander 2 will at least be a little easier to follow, plotwise, though.