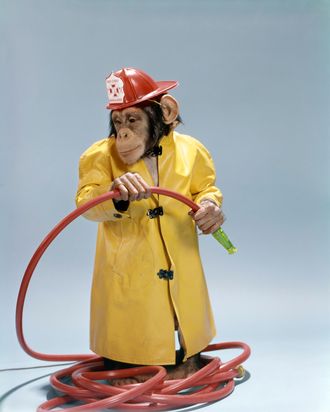 The new analytics manager is working out!
Photo: H. Armstrong Roberts/ClassicStock/Corbis
For two years, career website Glassdoor has ranked the top-25 jobs of that year based on a combination of "job openings, salary, and career opportunities rating." Last year, the highest-ranked job was physician's assistant. This year it is data scientist. Richard Scarry — beloved children's author and illustrator, perhaps best-known for his books that explain and categorize adult jobs for kids (and also for the worm named Lowly who drives an apple-car) — would find endless inspiration in this year's list.

No. 2 Tax Manager
Berta the chicken is terrible at math, but at her job as senior chicken blogger, she sees no need for it anyway. Only on tax day does she visit the tax manager, Mr. Blockhead, to make sure she's getting a sick tax refund. Mr. Blockhead has a calculator for a brain and watches a lot of Spike TV.
No. 3 Solutions Architect
Architects design houses to build. A solutions architect does something else. Fiona Fieldmouse is married to one of these but still can't explain what her wife does all day.
No. 4 Engagement Manager
Nora the Newt and her girlfriend, Miss Moo, are trying to decide if marriage is a smart choice for their future. An engagement manager sits them down in the center of town and helps them come to a conclusion over a friendly game of tic-tac-toe.
No. 7 Physician Assistant
Last year Landon Lemur took a job as a physician assistant because Glassdoor said it was the best job. Now he looks like a punkass and everyone knows it.
No. 11 Analytics Manager
"My analytics! My analytics! Is there not one brave soul who is willing to manage my analytics?" Mister Loopy screamed aloud at the greengrocer. Around the bend in the grain aisle, Shelly the Sheep shouted, "Me! I can help!" She was an analytics manager.
No. 19 Strategy Manager
When strategies are hard to come by, or if your strategies are all discombobulated and twisted, Little Lady Lark is your girl. Just walk right into her storefront Strategy Management Inc. and she's got you covered. Never let your strategies be undermanaged again. She is nothing if not good with managing strategies.
No. 25 Software Architect
On a date at Totino's, the Italian spot on Main Street, Carl the Cavalier King Charles Spaniel asked Moira the Maltese, "Have you ever heard of Sim City?"
"Sure," she said.
"I am that city's most well-renowned architect."
Only three dates later, the new couple paid a visit to the engagement manager.