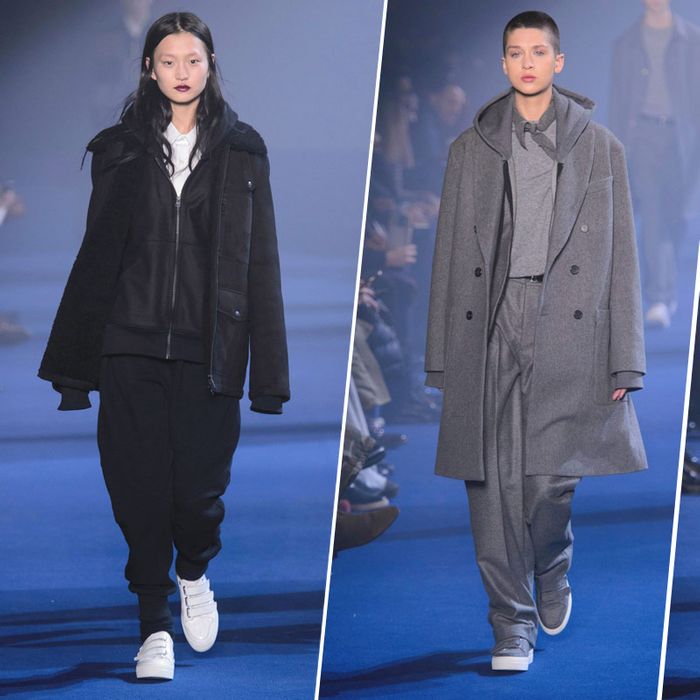 There are a lot of men at the men's fashion shows. Designers, models, buyers, and editors: Most of them are men. It's a real problem, not just because the industry is severely deficient when it comes to women in power writ large, but also because the best way to make men's fashion more exciting is more women. Nowhere was this more apparent than at AMI Alexandre Mattiussi's excellent show for men's week in Paris this past weekend.
In general, the shows in Paris suggested a less risky, more commercially viable way for men to dress. Gender-normative staples that had been under attack in previous seasons — like pants, shirts, and jackets — were literally everywhere, and there were fewer of the androgynous frocks and sexless habits designers have been threatening us with for a few seasons. For Mattiussi and a handful of other designers who had models of both sexes walk their shows, the gender lines weren't crossed, rather they ran in parallel.
Mattiussi's solution to inclusive fashion was to intersperse female models and dress them as perfect complements to the men in looks that would have worked for either sex, but were effortlessly feminine and flattering on the women. The effect was that they served as punctuation for the menswear, proof that a well-cut trouser (in this case: wide and loose with the perfect amount of break) or the silhouette of a double-breasted overcoat has universal appeal. It wasn't so much about sharing clothes with your girlfriend as it was about how satisfying and simple good style can be.
Mattiussi is a master of the minutiae that makes ordinary clothes irresistible to style-obsessed people at a price that's within reason (relative to the rest of the labels that show on a runway, at least). It's likely that he's looking to parlay his popularity into the much more lucrative women's market, and he uses the runway to test those waters. He'd be smart to. But strategy aside, this collection was a much-needed reprieve from the monotony of masculinity. Here's to hoping more designers follow suit.