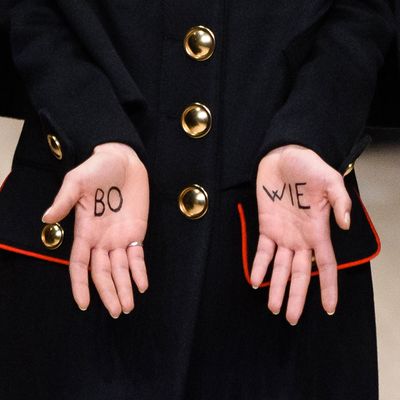 Burberry's London menswear show.
Photo: LEON NEAL/AFP/Getty Images
Something would have been amiss if Christopher Bailey hadn't paid tribute to David Bowie at Monday's Burberry menswear presentation. The designer, who stages a musical performance at every show, is famously a champion of British artists — so with guests still discussing the news of Bowie's death, it was no surprise to hear 2013's mournful Where Are We Now? playing as we took our seats.
Bailey's shows have undoubtedly shifted course in the last few months. The September womenswear show put musicians in the center of the space for the first time, and presented a tougher, sexier collection than we'd seen for many seasons before. On Monday, the bright greenhouse setting we've become accustomed to was nowhere to be seen; instead, the Kensington show space was curtained off from the outside world, dark and hushed in atmosphere.
Front row were Jourdan Dunn, Brooklyn Beckham, Mark Ronson, and Steve McQueen, not that it was easy to gaze at them — guests were seated in groups around the room for the first time, with models snaking through the maze. There were grumbles from the runway photographers, who crouched, knelt, and leaned into every corner available to try and snap the collection in motion.
This season's live performance felt refreshingly different, too; it came from the poet, pianist, and singer Benjamin Clementine, and was less like a backdrop to the collection than an equal spectacle. But the clothes — predominantly fall-winter menswear, but with some women's pre-collection in the mix — grabbed attention in their own way.
This season, Bailey played around with layering, pairing up the casual and the formal at every opportunity. Zip-up tracksuit tops (in nylon) and sneakers ran throughout, worn with military coats and dramatic furs. Several pieces harked back to the 1990s, from straight-legged, washed-denim jeans to a Burberry-logo knitted sweatshirt. There were cropped pants that left expanses of bare ankle (no socks required), but there were also wide, sweeping flares that would have been more at home in the 1970s. Bailey's title for the show was "Something old, something new, something borrowed, something blue," which explains the mishmash of references.
There were also welcome moments of retro glamour: This season brought sparkle into the men's line, with a red jacket and a pair of black trousers covered entirely in sequins. Makeup artist Wendy Rowe gave the show a final touch of razzle-dazzle: She dotted loose glitter around the eyes of some of the models, as though they were on their way straight from the club to the office. To play us out after the show, the soundtrack was "Oh! You Pretty Things" — apt for a collection that, though it was planned long before Bowie's passing, had a hint of his enduring glitz and swagger.