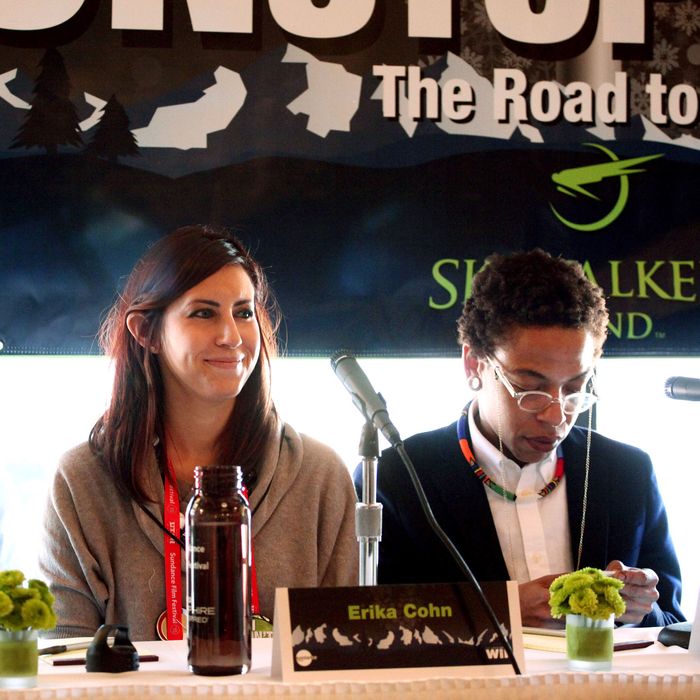 Director/producer Amy Berg, director/producer Erika Cohn, and WIF documentary grant winner Lyric R. Cabral.
Photo: Tommaso Boddi/Getty Images
For the past 18 years, Dr. Martha Lauzen at the Center for the Study of Women in Television and Film at San Diego State University has been monitoring women's employment in Hollywood's top-grossing films and TV shows. She released her annual look at TV back in September, and now she's published its 2015 film counterpart, "Celluloid Ceiling." Surprise — there's still a lack of women at the top. There is one bright spot, though: Lauzen's work suggests that as women move into positions of power, they bring other women along with them.
The report looked at the top-250 highest-grossing domestic films from 2015 and found that only 9 percent of them were directed by women. While this is a 2 percent increase from 2014, it's still the same percentage of female directors there were in 1998. In other behind-the-scenes roles, the numbers looked a little better: 11 percent of writers were women, 20 percent of executive producers, 26 percent of producers, and 22 percent of editors were women. (Only 6 percent of cinematographers, though.) As the report points out, of the 250 highest-grossing domestic films, women held 19 percent of the available positions, which is especially striking when you consider that women still make up the majority of audiences. (In 2014, 57 percent of moviegoers were women.)
But, when women hold leadership positions, their success tends to work in favor of other women. In an assessment of the top-500 grossing films, Lauzen found that in films with female directors, 53 percent of the writers were women, whereas on films directed by men, women made up only 10 percent of the writers room. As Lauzen writes: "When women are in a gateway role, such as director, they may open the door to opportunities for other women."