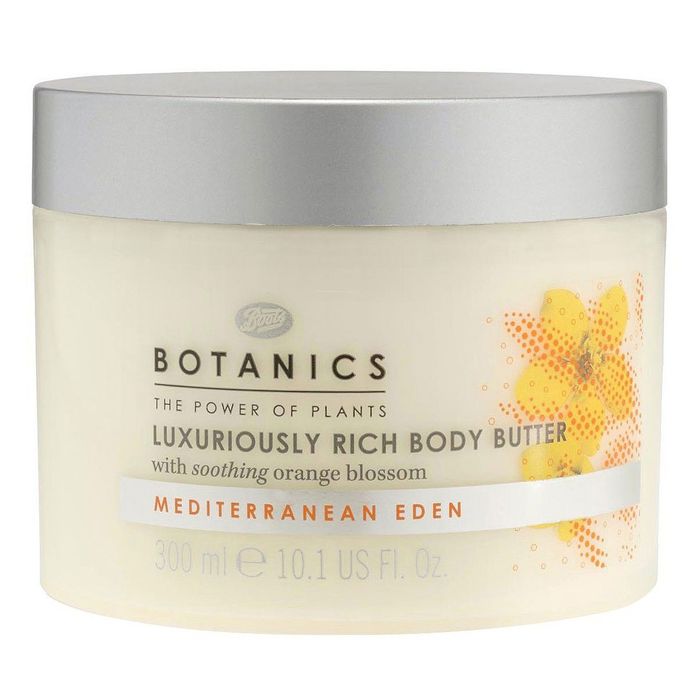 Boots Body Butter.
Photo: Botanics
There are some things you should aggressively stretch your spending limit for, and then there are lotions and body creams. After a lifetime spent dodging ashiness and dry skin, I've concluded that the best lotions are fast-absorbing, moisturizing, and dirt cheap. Boots' body butter hits the mark for all three.
The body butter, like the name indicates, is rich and smooth, and it instantly makes dry legs, elbows, and neglected feet feel soft and slightly shiny. Highly moisturizing cocoa butter, coconut oil, olive oil, vitamin E, and glycerin make up the lion's share of the ingredients. The rest is comprised of essential oils like bergamot and orange, which gives the butter a subtle fruity fragrance of "Mediterranean Eden," whatever that means.
When rubbed over skin, Boots' body cream absorbs quickly. It's almost as if it melts, leaving behind the sheen of an oil. After five minutes or so, the sheen disappears, but the soft skin left in its wake stays until the next day's shower. In the winter I usually layer a lotion under an oil, or a cream under an oil, but with Boots' body butter, there is no need. I haven't seen dry skin since using the cream, and as someone whose name rhymes with ashy, I'm deeply relieved.
Boots Botanics Luxuriously Rich Body Butter, $11.99 at Walgreens.