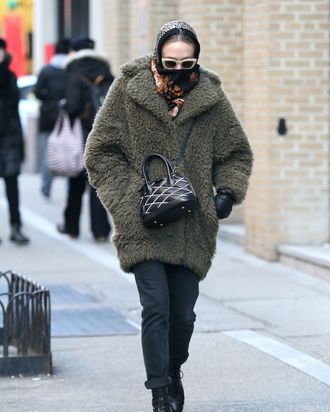 Chloë Sevigny in New York.
Photo: PacificCoastNews
Outside Instagram's maddening celebrity sphere of beachside vacations, at least one star is preparing for frozen hell this weekend like the rest of us. Chloë Sevigny showed she's more than ready for the East Coast's possible "Snowmaggeddon" repeat by bundling up beyond recognition in New York on Tuesday, wearing an impressive number of layers: a gray hoodie, a luxe patterned scarf you didn't get for Christmas, and an olive-green shearling coat that you also didn't get for Christmas. God bless you, Chloë. It's true: New York is freezing.