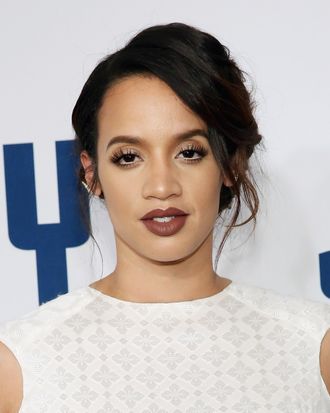 The embodiment of joy, Dascha Polanco.
Photo: Monica Schipper/Getty Images
If you didn't know already, Dascha Polanco's story is a cool one. She was 30 when she nabbed her first onscreen role as everyone's favorite pregnant inmate in Orange Is the New Black. It didn't take long for Hollywood to come calling, and now she's starring alongside Jennifer Lawrence in Joy. The Cut spoke with the incredibly down-to-earth Polanco about the best-tasting juices, how to buck negative thoughts, and finding a comfortable place to poop.
How I start my day: I really don't sleep a lot. I usually wake up at six because I have to take my kids to school. I like for them to have breakfast at school because it's well-balanced. After I take the kids to school I eat. I usually make myself egg whites with truffle salt or a protein shake. I like to put a papaya in my shake because it has a lot of fiber, it makes you go. Sometimes I go real Dominican and I have plantains in the morning or boiled Caribbean root vegetables: yams, yucca, that stuff.
How I nourish my body: I take a multivitamin, B12, and also a probiotic for vaginal heath and digestion. The most important thing is to always eat after you work out. So after I work out I have a grilled chicken with vegetables. At night I have this powder that's like carbs that you take for your muscles. I drink a lot of herbal tea.
You know how during the holidays you drink a lot? Well, I do the seven-day cleanse thing after everything is over. Juicing to me only has to be for a cleanse. I cannot live off of juicing. There are people who can juice all their life, I can't, I only do it as a cleanse. There's this girl in Brooklyn, Julie. Oh my God, her juices are amazing. Out of all the juices that I have had, her juices taste the best. There's not one where I'm like, No.
I also have friends who opened up a wellness center, My Wellness Solutions, in Harlem. They do a lot of holistic care, colonics, therapeutic massages, cleansing facials, yeast cleanses, sugar cleanses — they're all about natural ways. I don't do it all the time, I do it seasonally. I like going there because it's very private and they're very clean. The ambience is very soothing, inviting. I've gone to one place before this and it looked very industrial. I'm like, Ummm, I don't feel comfortable pooping here. I felt very vulnerable. My Wellness Solutions is more intimate. Also, the machine they use is not so uncomfortable. They just flush saline into your intestine and it helps you go. It helps with any kind of constipation. You feel so light and clean. 
How I like to sweat: I get bored with workouts that are the same every day. I've been going to Blink. But I play sports and also live in a fifth-floor walk-up, so that's exercise. With my trainer, I do 15 minutes of intense cardio, like push-ups to the max, the Stairmaster, or the elliptical. We do squatting with a medicine ball. I don't do the treadmill because I get motion sickness. Depending on if it's a leg day, we do a lot of burpees, calisthenics, and the leg machine. There's a lot of high-intensity interval training. Sometimes we work outside and do the heavy ropes for arms. We focus each day on something different.
Recently, I've also been working out with my boyfriend who is a fitness model. That's fun because he's fit and I'm learning so much more now about what to take after working out, what to drink to feed the muscles, and what supplements to take. He has 3 percent body fat. When he told me his body fat I was like, What the hell? My percentage is like 85 percent fat. It's interesting to see the difference in training. All he does is weight-lifting. 
I have moments where I work out five, six, seven times a week. And there are moments when I work out for three days. It depends on my schedule. For most of this year, I had what I call a relapse where I didn't work out even though I knew that I should. I started to go back to Blink in September and have been hitting the gym hard ever since. 
What wellness means to me: Wellness not only means physical. It's a package. It deals with mental wellness, it deals with social wellness, it deals with self-awareness, taking care of your body, making good choices, having balance. In life, anything in excess is not good. 
My biggest wellness struggle is: I struggle with self-love, mental wellness, and social wellness. I think that's where I'm learning the most. Being in a relationship where it affects you emotionally is not healthy. It literally affects your health. My whole life I've struggled with self-love because there are external factors, like experiences you've had as a child where you're not exposed to self-love or loving yourself. You're told how you are supposed to look at a young age and I think that affects you mentally. You want to look like everyone else, but not you.
My wellness shortcut is: Affirmations. I look at the positive in every situation, I have to live in the moment. Sometimes we worry so much about everything and don't enjoy that single moment. Having a spiritual relationship with God helps me a lot. Praying. Meditating. It's very important to write, for me. I write down my emotions, what I'm feeling. It feels good. There's something magical when you're able to write on paper and read it later and say, Oh, I've grown from this or Why did I feel that way. I like to draw a lot. Art to me is a way of healing. It's very therapeutic.
How I eat when I'm alone: Sometimes I like to mix foods. I like marshmallows in my cereal. I know there are cereals that have marshmallows, but ever since I was little, I put mini marshmallows in cornflakes or Rice Krispies. I like condensed milk on toasted bread. I like crackers with mayo. When I have my period, that's when I like to eat whatever the hell I want. Oh my God, I like to eat everything. With my sweet tooth, I like simple desserts. I like a box cake, warm, with milk. I love pudding. I like an apple pie. Simple, simple sweets. 
My wellness advice is: It's important for us to focus not just on our superficial beings, but also our emotional and mental wellness. It's okay to sometimes not be consistent. It's okay to get back on track. Just being able to correct yourself and say, Hey, I didn't go to the gym this week, so next week I will. Make the effort always.
This interview has been edited and condensed.