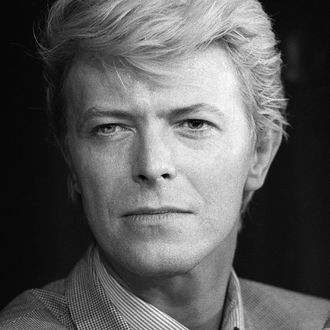 David Bowie.
Photo: Ralph Gatti/AFP/Getty Images
There have been many lovely tributes to David Bowie this week after his death on Sunday, but this is one you might've missed: On his site Mind Hacks this week, clinical psychologist and science writer Vaughn Bell writes that Bowie is apparently a somewhat frequent guest star in people's hallucinations, at least among those who have been recorded in the medical literature.
It's not clear from his post (or a quick look on PubMed, a searchable database of science journals) exactly how many case reports have been written on Bowie cameos in hallucinations, but Bell indicated in an earlier post that it does seem to be a "popular" theme. On Wednesday, he wrote briefly about one particular report, that of a 32-year-old divorced woman with a medical history of behavioral problems:
She believed she was secretly married to the rock star, David Bowie, after supposedly meeting in a church camp several years previously. She described seeing him "wait for her" outside her hospital window. The onset of this delusion coincided with a local tour by Bowie.
Bell also notes that Bowie had his own experience with psychosis, too:
Bowie himself was widely thought to have experienced an episode of psychosis himself, some years later, largely due to a period when he was taking very large amounts of cocaine while working on the album Station to Station.

Several biographies describe how he feared evil entities floating past his window, thought The Rolling Stones were sending message to him through their music and believed witches were stealing his semen.
There are of course many ways Bowie's memory will live on; it's just that I didn't realize until reading the Mind Hacks post that the scientific literature was one of them.