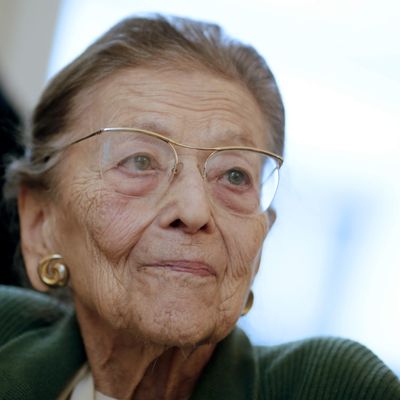 Someone make her life into a movie already.
Photo: Kenzo Triboullard/AFP/Getty Images
The writer and editor Edmonde Charles-Roux passed away last night at age 95, The Guardian is reporting. Though her name is less-known in the U.S., her life story is certainly biopic-worthy, encompassing war heroism, high fashion, and literary fame.
Charles-Roux spent most of her early life outside of France, owing to her father's job as a diplomat, but on the eve of World War II she enlisted as a volunteer nurse in her home country. She was wounded while rescuing a soldier, and later joined the French Resistance. She received the Croix de Guerre and was named a Chevalier de la Legion d'Honneur for her wartime heroism. 
Postwar, she would become a major player in French fashion publishing. She became one of the founding editors of Elle in 1946, and went on to work at French Vogue — eventually rising to the position of editor-in-chief, a job she held from 1955 to 1966. While there, she nurtured talents like Guy Bourdin and William Klein and promoted designers including Christian Dior and Yves Saint Laurent in its pages. However, the magazine brass broke ties with her after she tried to put Klein's image of the black model Donyale Luna on the cover. (That wouldn't come to pass until Naomi Campbell covered the magazine 20 years later, in 1988.) They changed the cover overnight and fired her.
It was a brave stance to take at the time, though she didn't fully realize it. Nearly 40 years later, she recalled in an interview with Le Monde, "When I went to get my paycheck at the accountant's, they handed me the envelope, saying, 'I fear that this is the last one.' I didn't realize that this image could at this point shock. There was no desire for provocation on my part."
Her next act was as a novelist: Within months of her Vogue departure, she lived every editor turned novelist's revenge dream when her novel Oublier Palerme (To Forget Palermo), based on her time in Sicily, won France's biggest literary prize, the Prix Goncourt. She would go on to pen nine more novels and the scripts for several ballets. Her biography of Coco Chanel, L'Irregulière, became the basis for the film Coco Avant Chanel, starring Audrey Tautou.