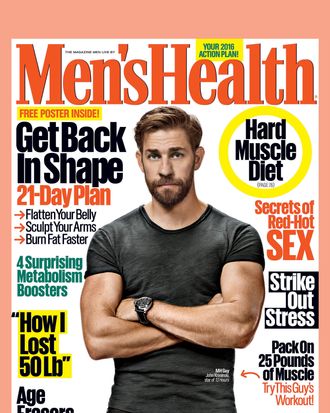 Ripped.
Photo: Men's Health
Remember the summer between eighth and ninth grade where that cute but kind of nerdy kid disappeared and then reemerged on the first day of school with a six-pack and muscle definition in his arms he definitely didn't get just from skateboarding? And his girlfriend was like, kind of weirdly proud of her own foresight, because she saw the diamond in the rough before anybody else did, but also kind of pined for the days when his Get Up Kids shirt concealed a little belly? Yeah, that's like Emily Blunt and John Krasinski.
During an appearance on The Late Show last night, Krasinski admitted to Stephen Colbert that his wife kind of misses the physique he sported before getting washboard abs for his role in 13 Hours.
"She hates it," Krasinski said. "She would way prefer to have the doughy guy back." 
We get it, Em. We get it.