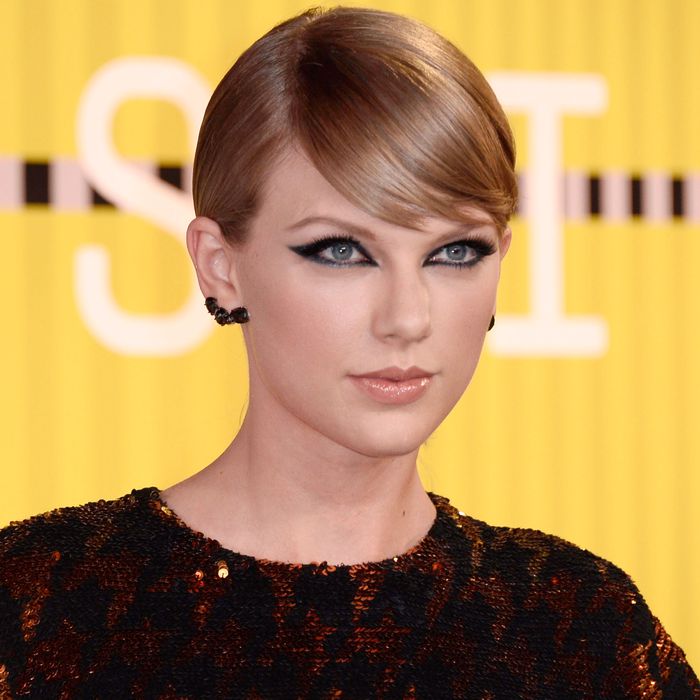 Taylor Swift, girl interrupted.
Photo: Paul Buck/Corbis
Taylor Swift and Calvin Harris are still dating. In fact, on Tuesday night, they went on a date to a restaurant. A slice of life. Dates at a restaurant, dressing like an ice skater for your date at the restaurant, posing at your table with a fan who later posts the photo to Instagram with the caption "Awesome dinner with mom and dad": Sometimes seemingly mundane activities like these can prove themselves, over time, to be the most meaningful. Anyway.
According to TMZ, Swift and Harris dined at Santa Monica's Il Ristorante di Giorgio Baldi, a trattoria with a four-out-of-five-star Yelp rating and mostly positive reviews, calling it "warm," "cheerful," "expensive," "cozy," "dim," "small." For the sake of full disclosure, however, I should let you know that Judy J. from Los Angeles's most recent experience at Il Ristorante di Giorgio Baldi, a restaurant that she typically enjoys, was not on par with past visits:
Sadly I write this review. We have had many great experiences in the past at Giorgios. But last Friday I had some important friends in town. So where do I treat them? Giorgio di Baldi .  Wrong….
From the start, our waiter was a smart ass. "Your time has expired to make a decision" awkward.. We laughed a nervous laugh and then he did it again, to my boss. Ugh.
Ok my food was excellent grilled octopus and langostino with penne. Even though I ordered linguine.. Still very good. The boss?! Awful some ravioli miniature. Hardly anything on his plate!! I asked him to return it bu—
Etc., etc. Is Santa Monica's Il Ristorante di Giorgio Baldi slipping? Another story for another day.
While there, Swift and Harris ran into a young fan, whom they quite graciously let sit at their table and pose for a photo.
Nice of them. Personally, I wouldn't have let this young man do this. I would've said something like, "Thanks, but we're having dinner." Or maybe, "Ahh, what? I'm sorry, I can't hear you!" and continued with that charade until the young man returned to his family. But they let him sit there, which was unnecessarily kind, and, as you can see, he posted the photo to his personal Instagram with the caption "Awesome dinner with mom and dad."
A pretty good caption, if I'm being honest. But can we do better? Let me try first, and then you try.
• "Here I am interrupting a nice dinner."
• "I thought I could sit down with these strangers and ask for a photo, and then I did it, and what sort of lesson did that teach me? Just something for you to think about."

• "Me with Taylor Swift and Calvin Harris, their strained smiles betraying their true feelings w/r/t me interrupting their dinner."
• "Think you can enjoy a quiet evening out with a loved one (or someone with whom you have some sort of mutually beneficial PR contract, just guessing) uninterrupted? Not on my watch."
• "What do celebrities owe us? Some say everything. Some say nothing. I say at least one photo of me sitting at their dinner table, a belief you can see I put into practice last night at Il Ristorante di Giorgio Baldi in Santa Monica."

• "Heyyyyyy, check me out."

Those are my captions. Now you caption it! (Quietly, to yourself.)