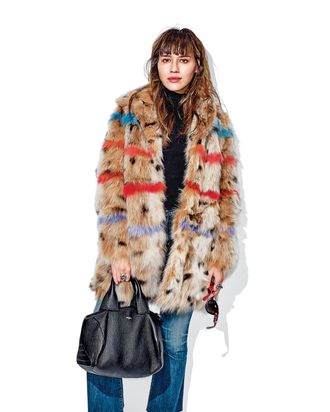 "I knew I wouldn't be a model forever."
Photo: Bobby Doherty
Natalie Suarez, Model and Fashion Blogger
Which came first, modeling or fashion blogging?
I was one of the first fashion bloggers back in the day — I started my blog, Natalie Off Duty, in 2009, when I was 18 and had been modeling for a few years. Back then, it was just me documenting my life as a model behind the scenes. It didn't become a full-on business till I signed with the social-media agency DBA. I work with them to pitch projects to brands and do sponsored photo shoots. Like, last summer I did this whole road trip with Teva where I drove through the South and ended up at Bonnaroo. I knew I wouldn't be a model forever, but I thought, I don't know, maybe I'd be an accountant or something. I definitely fell into this business.
Are you big on Instagram?
I actually got to Instagram late because I had an Android! Now I have 220,000 followers. They love seeing things from above: these photos of lots of objects that are called "flat-lays." People love my travel flat-lays, like my passport and whatever else I'm bringing on my next adventure. I've definitely fallen off some chairs taking these photos. Anything for the shot!
Lightning Round
Hometown: Santa Monica, California.
Coat: "It's from a brand called Jocelyn. It's a perfect Instagram coat."
Relationship status: Newly single. "Everyone wants me to get on that dating site Raya that you have to be approved for."
Favorite TV shows: "It's hard for me to find time for TV, but I watch the 'Weather on the Ones' every morning on NY1."
Last splurge: "I just bought a loft in Dumbo."
*This article appears in the January 25, 2016 issue of New York Magazine.