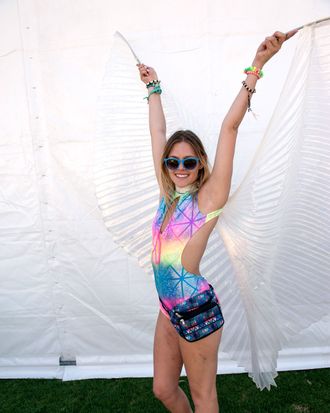 A festival goer in 2015. Let us not repeat the sins of the past.
Photo: Gaelle Beri/Getty Images
In addition to crystal healing and Tracy Anderson, New Yorkers can now add Coachella to their list of California imports.
Goldenvoice, the masterminds behind the most Instagrammable music festival, have announced that this summer New York City will be getting its very own East Coast version of Coachella, called Panorama. It will take place July 22 to 24 at Randall's Island Park.
Before you roll your eyes — Flower crowns! Crop tops? What's next? East Coast Burning Man? — just think of this possibility: Panorama (we'll learn to love the name) will give us the chance to rectify everything we hate about actual Coachella, especially when it comes to "festival style." In that spirit, a petition for the following articles to be banned from Panorama:
• Fringe boots
• Shredded jorts, junderwear, denim thongs
• Under-butt
• Selfie sticks
• Native American headdresses unless you have a tribal affiliation
• Crochet bikini tops
• Rainbow gummy bracelets
• Headbands worn across the forehead
• Fashion bindis
• Flash tattoos unless you are Beyoncé
• Flash tattoos even if you are Beyoncé
• Tie dye
• Bros
• Dancing bros
• Flower crowns
• Anything in this slideshow
It's rare that we get a second chance at anything. Let's not mess it up.