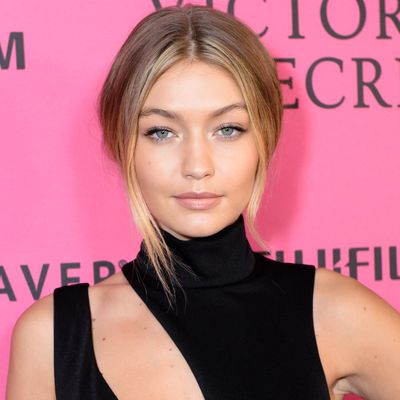 Burger lover Gigi Hadid.
Photo: Joe Schildhorn/BFA.com
Gigi Hadid: Who is she? I don't know for sure, and neither do you. (Please don't interrupt.) I can tell you one thing about her, though. According to the stable of mathematicians at "Page Six," Gigi Hadid once ate 52 burgers in a single year.
Hadid, who won Monday night's episode of Masterchef Celebrity Showdown after making the pickled-jalapeño-and-crispy-onion-topped "Gigi Burger," talked to "Page Six" about burgers for a post titled "Supermodel Gigi Hadid ate 52 burgers in a year":
"The first year I lived in New York I tried a different burger a week to find my favorite burger in New York," she explained. "I always say, eat clean to stay fit, have a burger to stay sane."
The math checks out. If we trust Gigi Hadid on her exactly one-year-long quest to find her favorite burger in New York, during which she never visited the same burger restaurant twice, and during which she — committed to finding the best burger (in her opinion) in her new city — ate strictly one burger per week, she did, indeed, eat 52 (different) burgers — one per week, for that year.
While we have to trust that "Page Six" confirmed the details of Gigi Hadid's search, we do not have to trust "Page Six" on the simple fact that Gigi Hadid loves burgers. On Tuesday afternoon, the Cut senior writer Allison P. Davis confirmed Gigi Hadid's love of burgers to the Cut exclusively in this stunning confession:
"I once ate a burger with Gigi Hadid."
Incredible. Davis went on, spilling her guts like so many spilled bottles of ketchup, spilled during the act of hastily applying ketchup to a burger: "She really likes to dip her burger in ranch. … [Hadid] finished the whole thing, ate it REAL fast."
You heard it here second, after you heard it at "Page Six," or, for some, after you heard it while you were writing a profile of Gigi Hadid for a magazine:
Gigi Hadid loves burgers.
Thank you.