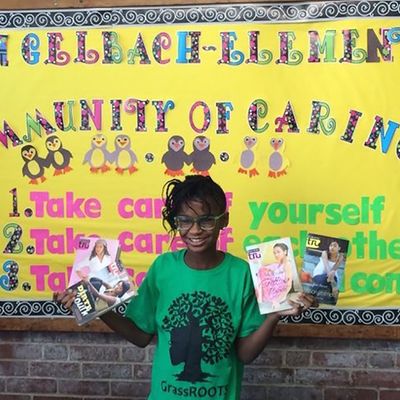 Marley Dias, little hero.
Photo: Janice Dias/Philly Voice
While you spend your days half-watching Real Housewives as you scroll through Instagram, Marley Dias is making you look like a DNB. The 11-year-old Philadelphia elementary-school student is a grant-winning, Ghanaian orphanage volunteer who also just started a book club meant to spur social change.
Having grown tired of her school's reading syllabus, Dias decided to start #1000BlackGirlBooks, a book drive with the aim of collecting 1,000 books where black girls take the lead:
"I told [my mom] I was sick of reading about white boys and dogs," Dias said, pointing specifically to "Where the Red Fern Grows" and the "Shiloh" series. "'What are you going to do about it?' [my mom] asked. And I told her I was going to start a book drive, and a specific book drive, where black girls are the main characters in the book and not background characters or minor characters."
So far Dias has collected 400 books, and is hoping to get 600 more before her February 1 deadline. We look forward to voting for her in the 2048 presidential election.