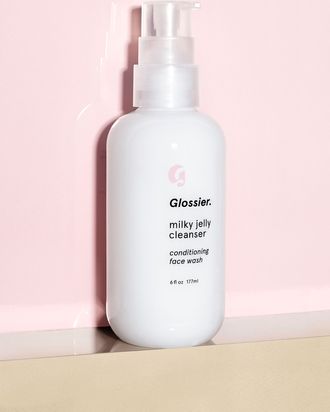 Glossier's very pretty Milky Jelly.
Photo: Glossier
Let's face it: Beauty brands tend to churn out more of the same when it comes to debuting new facial cleansers. Most fall into one of four categories: liquid, cream, solid, or oil. Add in a cool fragrance, pump it into a pretty jar, and — hey, presto! — a new cleanser is born. Given that there's little incentive to get more creative, it's impressive that a small company like Glossier has found a way to shake up the category with the new Milky Jelly.
First of all, the cleanser can be used in two ways: Rubbed over dry skin, it serves as a makeup remover; over wet skin, it behaves like a routine wash. Its unfortunate-sounding name comes from its gel-like texture, which is meant to keep it from sliding down your arms mid-cleanse, according to Glossier's founder and CEO, Emily Weiss.
A quarter of the water in the cleanser was replaced with rosewater, giving it an innocuous, barely there rose scent. Other star ingredients: comfrey-root extract to soothe, aquaxyl to prevent skin dehydration, and vitamin B5 to moisturize, though I think the real standout are glyceryl cocoate, a cleansing agent derived from coconut oil and glycerin, and sodium hyaluronate, a powerful humectant. Both of them really boost the cleanser's superb non-drying effect.
Glossier formulated Milky Jelly with a pH that mirrors the natural pH of our skin. To do this, they had to abandon foam-producing additives. The result is a non-lathering formula with a slippery, serumlike texture, similar to other foamless washes. When splashed with water, the cleanser transforms into a pearl-white wash, which is where the "milky" part of the name comes into play.
Milky Jelly's one flaw lies in removing makeup. While it does dissolve non-waterproof makeup, it takes time and extra effort. As with an oil cleanser, to remove makeup you need to apply Milky Jelly to dry skin. The package suggests two or three pumps, but I found that I often needed four or five. A bit more elbow grease was required, too; I needed to rub my eyes and skin for several minutes before effectively dissolving the last trace of mascara and eyeliner.
A good thing is that Milky Jelly doesn't irritate eyes, and the packaging is very pretty. After cleansing, my skin feel clean but not tight, even if I'm slow to moisturize. You could say my face adapted to the cleanser with ease. Getting used to the name, however, took more time.
Glossier Milky Jelly Cleanser, $18 at Glossier.