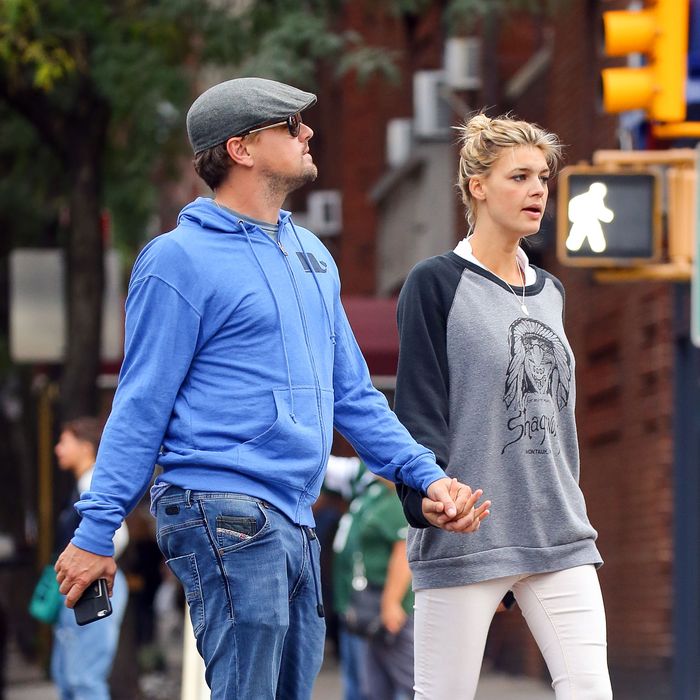 RIP.
Photo: Felipe Ramales/Splash News/Corbis
"When you kill a king, you don't stab him in the dark. You kill him where the entire court can watch him die." Leonardo DiCaprio said this in Gangs of New York, according to a blog post called "10 of Leonardo DiCaprio's most iconic character quotes." Was he talking, in veiled terms, about the demise of his relationship with Sports Illustrated model and Georgetown graduate Kelly Rohrbach being splashed across the pages of such gossip sites as Us Weekly and People? I don't know — I saw Gangs of New York, but I don't remember it.
Yes, it's true. Leo and Kelly, the couple we know from when they biked together, etc., have called it quits. An "insider" spoke to Us about the split:
"They've been broken up for over a month. It was mutual. They both have intense work schedules and a lot going on in their lives right now. They both needed to take a break because of that. They are still friends and talking but it's over."
"I knew it was a great mistake for a man like me to fall in love …" Leonardo DiCaprio said in 2013's The Great Gatsby according to a blog post titled "16 Awesome Leonardo DiCaprio Movie Character Quotes." Was he referencing this breakup with Kelly Rohrbach specifically?
Ah, I guess we may never know for sure.