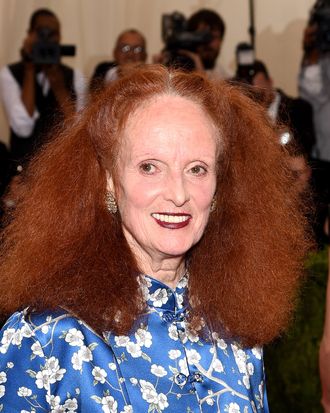 Don't worry, Grace Coddington isn't going anywhere.
Photo: Dimitrios Kambouris/Getty Images
Fashion's most prominent redhead, the true star of The September Issue, the only person who could get away with wearing pajamas to the Met Ball — Grace Coddington is many things. But as of today, she will no longer be creative director of American Vogue, where she has worked for 28 years, the Business of Fashion reports. Grace fans, never fear, though: She's not decamping altogether, but simply dialing back. You'll still see her work in her new role as creative-director-at-large, where she'll be involved with a minimum of four shoots per year. Coddington will keep an office at Vogue, and there are no current plans to replace her in the creative director role. She'll also work on external projects, including a perfume with Comme des Garçons and a coffee-table book with Phaidon.
"I really love Vogue, it's been in my life always, they discovered me as a model at 19," Coddington said. "I'm not running away from Vogue, because it has opened so many doors. But it will be nice to collaborate, and nice to go out [and] give talks to people. It's just another approach. I'm certainly not going into retirement. I don't want to sit around."
Coddington has brought an ultraromantic vision to the magazine over the years, favoring shoots themed around fairy tales (Snow White, Beauty and the Beast), classic novels (Alice in Wonderland), obscure paintings (this Jessica Chastain cover, based on Sir Frederic Leighton's Flaming June), and eras past (the Roaring Twenties, the turn of the century as seen through Edith Wharton's eyes). She loved to cast participants from all different worlds, whether that was John Galliano as the Red Queen in the Alice shoot or Junot Diaz and Jeffrey Eugenides in the Wharton portfolio, playing the author's friends. Which isn't to say that the past is her only inspiration: She's skilled at picking up on what's going on in the world around her, like grunge — via her famous "Grunge and Glory" shoot with Steven Meisel in 1992 — or Kimye-mania. (Yes, she's credited with thinking up the World's Most Talked-About Couple's most talked-about cover.)
Coddington's biggest impact, however, may be in her unwillingness to be molded into the modern model of fashion editor. She is most definitely a brand, and that brand includes cats, a corona of red hair, and her Welsh sense of romance and whimsy. But her main focus is not on being a street-style star or an Instagram phenomenon or a talking head. Watching The September Issue, which introduced her to the public at large, it was striking how all-consuming her focus on her creative work was. Every page of one of her shoots was worth fighting to keep in, and every detail was crucial — she even stepped in to fix an untied shoe in one scene. And rather than view the fashion world from the vantage point of passing trends — "kitten heels are in this year!" — she has mastered the macro approach, filtering what she sees on the runway with her own personal library of references and eras. We're looking forward to seeing her next chapter.