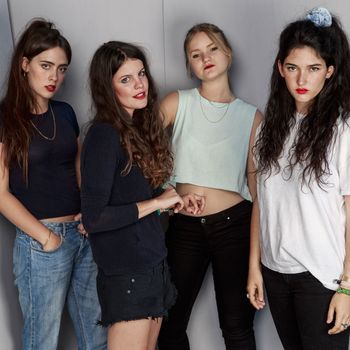 Hinds.
Photo: Aaron Serrano
On a Wednesday night, I was crammed into an overpacked DIY music venue in Bushwick, feeling particularly close to 30, to check out Hinds, a four-piece garage-pop band from Madrid.
So when frontwoman/lead guitarist Carlotta Cosials took the stage and reminded us that this wasn't a show, "it was a party," I was pretty sure I needed to be shuttled back to the retirement home. Maybe it was their energy, or the appearance of special guests like friend and fan Shamir Bailey, or the delightful rarity of seeing four women onstage together playing songs they've written and produced, but after a 40-minute set in which the four women tossed their notably fantastic and wild hair ("The only secret to it is rock and roll," Cosials tells me), giggled, and rocked, everyone (even the olds) felt like they were at the best sloppy house-party from their teen years.
Hinds (originally Deers) started in 2011 when Cosials and co-frontwoman Ana García Perrote took a trip to a seaside town in Spain. They couldn't play a chord (well, Perrote could play three) but decided to take two guitars with them and spent their trip learning how to play Bob Dylan's "It Ain't Me Babe," and basically started their band that day. "We gave two gigs only of covers," Cosials tells me via a Skype interview. "The second gig was so awful for us. It was the most horrible thing we've ever done. We just stopped playing until 2013 when we decided we missed it and just started writing our own songs." After that they picked up bassist Ade Martin and drummer Amber Grimbergen, and became one of the only female garage rock outfits on the Madrid scene. 
While 2016 is hardly a year when anybody should be surprised to see an all-female band onstage, Cosials tells me she's felt a sort of sexism that's inspired their band motto: "Our shit rules." "Music suddenly is the first time for any of us that we felt less for being girls. Just for being a girl band, I'd never felt that before. All of a sudden we have more reasons to be judged, for sure. When we started to write songs we had no idea about the structure of songs or melody or harmony, so when we started all of our musician friends were like, You can't do a song like that or You need a chorus. And I said, 'Why?' They think these opinions are helping so suddenly; I was like, I'm going to be my shit, I'll be responsible for my shit; I won't follow your rules."
Which worked in their favor. This week marks the release of their highly anticipated debut full-length album,Leave Me Alone, a short, jangly collection of infectiously energetic pop songs that sound like someone ran a '60s girl group through a shredder. It's a messy, fun album that you won't be able to get through without wanting to grab a can of Budweiser and go hang out in a basement somewhere.
Recommended track: "Bamboo"