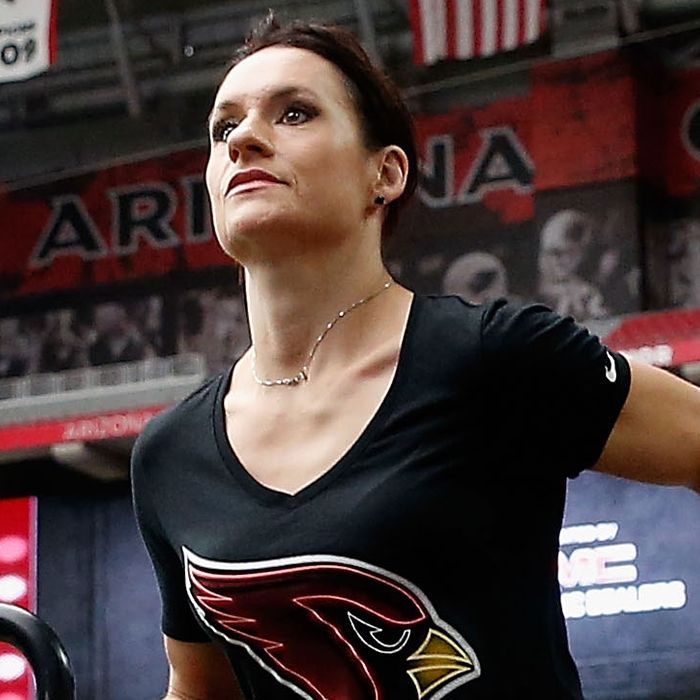 Jen Welter.
Photo: Christian Petersen/Getty Images
Wednesday evening the Buffalo Bills announced that they hired Kathryn Smith as special teams quality-control coach, making her the NFL's first-ever full-time female coach. On the Bills' Twitter account, head coach Rex Ryan said Smith "certainly deserves this promotion based on her knowledge and strong commitment." Hearty congratulations were in order, and here they are: Congratulations, Kathryn. Best of luck out there. (Continue to be wary of rambunctious Bills fans, of course.)
But the celebration over Smith's hire also forced an uncomfortable question: Wait, Smith was the first female full-time NFL coach in history? Of all time? Like, ever? Hasn't professional football existed for almost a hundred years? What in the world took so long?
Sports teams' refusal to consider women has a long, sexist history, but it could be starting to change. Over the past few years, a handful of women have been hired in managing, coaching, and professional roles in men's pro sports. We have Kathryn Smith now, but let's not forget the ones who came before her.
Jen Welter
During last year's training camp and preseason, Jen Welter worked as inside linebackers coach for the Arizona Cardinals, making her the first "official" female NFL coach in history. Welter's position was only temporary — lasting from mid-July through the end of August — but her visibility has lasted far longer. Why did Welter believe she did a great job in her position? "Because I cared as much about them as people as I did about them as players, and I actually really know football."
Becky Hammon
In August of last year, the San Antonio Spurs hired six-time WNBA All-Star Becky Hammon as an assistant coach. While recovering from an ACL injury, Hammon had been observing team meetings for the Spurs when head coach Gregg Popovich decided to take her on as an assistant. Though Hammon was the first female coach in the NBA, Popovich insisted that her hiring was not a play for media attention: "She's a coach, and she's good at it. I think some people thought this was some kind of gimmick or we were just trying to be cool. I'm glad she's there."
Sarah Thomas
In the midst of a year of high-profile failures on sexual assault and domestic violence issues, the NFL made the right kind of news in April 2015 when it hired Sarah Thomas as the first female official in league history. Thomas, who had officiated high-school and college games for nearly 20 years, made her NFL debut in September of last year in a Texans-Chiefs game. "I've just been doing this truly because I love it," she said. "The guys don't think of me as a female, they see me as just another official."
Nancy Lieberman
Lieberman, one of the best players in the history of women's basketball (she's nicknamed Lady Magic), was hired as an assistant coach for the Sacramento Kings in August 2015, becoming the second female assistant coach in NBA history. Before joining the Kings, Lieberman coached the Texas Legends in the NBA Development League from 2009 to 2011, making her the first female head coach of a men's basketball league in history. When Lieberman was hired, she told ESPN, "It has an effect on a lot of people's thinking and the acceptance. I believe a lot of people saw that and went: 'Why can't we do that? That's something that's really important, and there's other people [who are] open-minded, why can't it be us?'"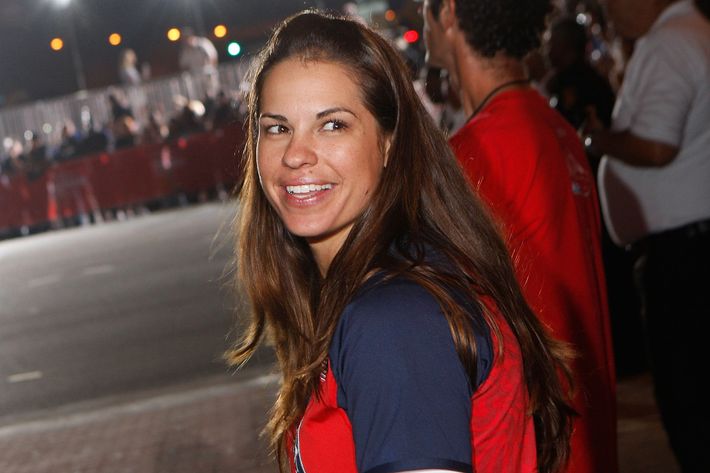 Jessica Mendoza
Just last week, former All-American softball star Jessica Mendoza was named a permanent fixture on Sunday Night Baseball after a few appearances last season. When she filled in for Curt Schilling on a Sunday-night broadcast last September, she became the first woman to ever to call a prime-time MLB game. Later that fall, Mendoza called the American League Wild Card game, making her the first woman analyst to call an MLB postseason game. Her permanent spot now secured, Mendoza says she knows people are paying attention. "I realize that anything out of my mouth, people are going to listen a little more," she told the Washington Post this week. But she's not scared. "What's helped is once the game began, it was just baseball, and not a female broadcasting baseball. I was like, 'I can do this.' I just honed in on it, and all the other stuff went away."
Justine Siegal
The founder and executive director of Baseball for All, an organization that calls itself "the hub of girls and baseball in the U.S.," Siegal became the first woman in history to throw batting practice to an MLB team at the Cleveland Indians' camp in 2011. In 2015, she became the MLB's first female coach when she took on a role as guest instructor for the Oakland A's instructional league club. Like Welter's, Siegal's job was only temporary, but she remains convinced that her involvement with the organization will turn into a full-time coaching position.
Violet Palmer
On October 31, 1997, Violet Palmer became the first woman to referee a regular-season NBA game, working the season opener between the Mavericks and the Grizzlies. Palmer played Division II college basketball but switched to refereeing after college, officiating preseason games and women's basketball games. When she became the first woman to officiate a regular-season NBA game, she said she walked onto the court confidently. "I was given an opportunity and, with that, it's really simple." She has since officiated thousands of NBA games, including in the playoffs, and two other women have since held jobs as NBA refs.